Summary:
We gave them a holiday in the snow, but this gang of the hottest, horniest twinks wouldn't so much as leave the chalet – and in fairness, who can fucking blame them?
After all, if you were surrounded with the freshest, cutest flesh on the planet we're sure you'd do exactly the same! So, if you're looking for footage of snowball fights and building snowmen you're gonna be disappointed. If, on the other hand, you've a craving for fresh-faced beauties like Noah Matous and Erik Franke then you've cum to the right place! A whole world of cock-slurping, ass-banging, jizz-spurting action awaits ...
Description / Review:
Scene 1: Off-Piste Flip-Flop Fuck Leaves These Two Twinks Fully Creamed!
Starring: Erik Franke, Noah Matous
Also available: Let's Play with Noah Matous
Young Noah Matous has been busy polishing his snowboard all morning – but his buddy, Erik Franke, clearly wants him to polish other (more intimate) things. As a result, Franke grabs hold of the lad's hand and thrusts it into his pants – which, let's face it, is a brazenly open invitation in anyone's language. It's at this point, of course, that Matous could quite easily respond by giving the rather presumptuous twink a punch in the mouth. Instead, the boy clearly realises that Franke's mouth could be put to much better use; and within a few minutes he's stripped right down and allowing his mate to orally pleasure him (like only a horny cock-lover can).
No thought of taking that board anywhere now – the attention of both boys is now very firmly centred on each other's crotches, as they begin to take turns to suck and slurp like new-borns before positioning themselves in 69-position. Just watching these two beauties in action as they feast on all that hard flesh is more than enough to get any fan of gay porn into quite a lather, that's for sure; but the intensity of this pairing only intensifies yet further when they each take it in turns to fuck the other. First Franke gets his fair share of Matous's butt-picker, riding it cowboy style like the pro he already is; then Matous lies on his side and allows his mate to pound him from behind, then again on his back. It's a display that could almost warrant an award; and that's before both lads have sealed the deal with energetic climaxes, most notably Franke over Matous's face! All in all, a first-class routine in every way!
Scene 2: New-Look Angel Proves He's A Cock-Loving Devil In Disguise!
Starring: Gabriel Angel, Will Hornet
Also available: Big Boys Don't Cry (2 DVD Compilation)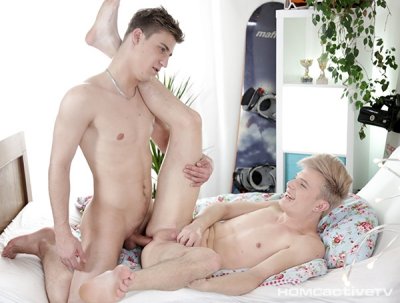 In keeping with the wintry theme, young Frenchman, Gabrial Angel, is sporting a new blond look, but if anything that seems to encourage new boy, Will Hornet, all the more. In fact, Hornet's down on his pal's dick within what seems like just a few seconds of the two guys meeting – a move that Angel himself is then only too keen to emulate. But it's clear from early on that it's Angel's pert little butt that's gonna be the star of this performance; and, having had chance to say hi to each other by exchanging blow-jobs, Hornet's taking full advantage of the Gallic lad's ripe, eager button and rimming Angel for all he's worth. The odd slap on the blond boy's ass underlines the point, for Hornet's the dominant party in this escapade – a point that's then emphasised when the fellow buries his hard, uncut dick deep inside the young lad's guts. Angel's initial reaction is arguable a little lazy – lying back with his eyes closed, taking everything that his new pal can throw at him. But if the youngster thinks that the newbie doesn't have a point to prove in his first scene with STAXUS then he's in for a rude awakening! For Hornet soon has the guy riding that thick, meaty shaft of his cowboy-style, like a trained whore; before getting his whole body behind Angel and pounding the fellow's tight ass with almost terrifying gusto! No small wonder that both buddies are soon creaming themselves off as a direct result – first Hornet into his mate's mouth, then Angel over his own belly. A very fitting finale all round!
Scene 3: Sledging Beauty Gets His Cute Ass Pumped By Hard-Dicked Pal! (See also: Let's Play with Pyotr Tomek)
Starring: Pyotr Tomek, Will Hornet
It might be cold outside, but Will Hornet clearly thinks that young Pyotr Tomek is smoking hot when he steps into the room to find the horny little twink sat on his sledge and looking a million dollars! Little wonder the fellow just can't wait to strip the pup of his clothes, picking him up like a doll in the process and instigating a five-star encounter that will almost certainly have you unzipping in no time. And no fucking wonder! These two beauties are clearly into each other as they take it in turns to slurp the life out of each other's dicks. First Hornet gobbling Tomek's love-stick whilst the youngster is sat on his lap; then Tomek feasting eagerly on his hunky buddy's ramrod – which will soon be pounding his tight little ass!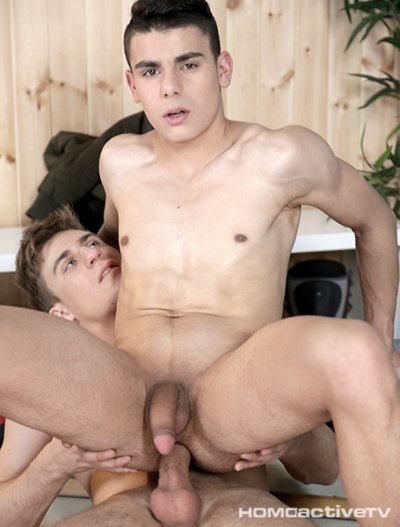 Before that happens, however, Hornet takes time out to give his cute buddy's crack a good tonguing; although the overriding temptation to deflower Tomek ultimately becomes too much, and understandably so! Who in their right mind wouldn't want to give this doe-eyed beauty the pounding of his life? But on this occasion it's Hornet who gets that pleasure all to himself – first buggering the lad from beneath with a cowboy-style coupling, then taking the cutie from behind and slamming his ass right up to the balls! Fortunately for the dick-loving cherub there's a fur rug on the floor to cushion the impact; but it's not long before all this high-octane action is bringing both buddies to a creamy climax. As a result, Hornet spews the contents of his nads over Tomek's nose, whilst Tomek himself produces a high voltage multi-spurt cascade over his belly!
Scene 4: Jace Reed Joins His Skiing Buddies For A Big-Dicked Threesome!
Starring: Jace Reed, Milan Sharp, Rokas Zilina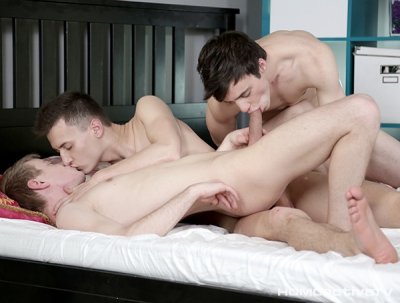 Milan Sharp and Rokas Zilina have made arrangements to meet up with Jace Reed for a morning's skiing session, but either they've forgotten or they just can't be arsed! Instead, they just want to enjoy a bit of time in bed together; and Reed would remain very much an afterthought were it not for the fact that the fellow turns up to find out where they are. At which point what would be a fantastic duo quickly transcends into a truly ball-busting threeway – much of the action centred (understandably) on Reed's unbelievably proportioned cock! Then again, what else would you expect? The boy is blessed with one of nature's wonders, and Sharp and Zilina jostle for position in a bid to slobber and feast on the monster! All things considered it's Sharp who gets the bigger share of the inches in his mouth – which is arguably a sign of things to come given that it's his raw ass that serves as the focal-point for action once matters have turned decidedly anal! Initially the guy takes a ride on Zilina's ramrod, as if to get him the mood; but it's painfully obvious that what Sharp really wants inside him is that humungous ass-stretcher of Reed's; and, having been banged on his back and then taken a momentary "rest" in the form of another bout of oral, he's soon riding the beast cowboy-style in a flagrant attempt to secure the most pleasure possible! Given the predicament, it's no small wonder that he's soon creaming himself silly; whilst Zilina spurts all over his face as he does so. That leaves Reed chance to knock out his load as his pals work his spurting crown!