Summary:
Identical twins Adam and Konrad Richter embark on a five scene exploration to discover their sexuality - first with each other and then with friends. It is an adventure which takes them from their initial feelings of brotherly love, to a desire to experience all that they can give each other. Scene by scene they find and enjoy new experiences, with friends such as Bjorn Gedda, Matthus Reinhardt, Viktor Kana and Nikolas Rezac, until finally they find all that they want - with each other.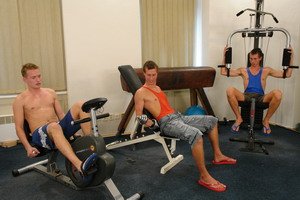 Scene one takes place in a fitness room, where the twins take the first tentative steps in their exploration. They help each other with their exercises before Adam decides to give Konrad a massage. The act of massaging Konrad arouses Adam enormously, until he strips off, revealing just how hard he is. At that point he decides to explore more, rubbing his body over Konrad and then turning him over to reveal that he too is hard. From that point it is inevitable that a mutual masturbation is needed, and they duly oblige. After it is over they shower and wash each other, bringing further arousal.
Scene two also starts in the fitness room. Here they are joined by Nikolas Rezac. Soon after he joins them, the twins decide to go and do some wrestling. Nikolas seems very interested in them and decides, after secretly watching them, to join them. He shows them how good it can feel to be sucked by another guy and the twins respond in the best way possible, by trying it themselves.


Scene three starts with the twins in the shower, helping to wash each other. In doing this the guys become enormously aroused but they are there to exercise, so they leave the shower to go to the fitness room. When they arrive they get a big surprise. Matthus Reinhardt and Viktor Kana are already in there and are making out. The twins decide the only thing to do is to join them. What ensues is an orgy of sex for the twins, with Matthus and Viktor leading them to pleasures they had never even dreamed of. The twins are sucked, and then for the very first time they are fucked.
Scene four has the twins sleeping off the effects of good time drinking. Bjorn Gedda calls on them and finds them asleep. He takes the opportunity of fulfilling a fantasy he has - that of seducing the twins. While they sleep he gently caresses and arouses them until they awake, whereupon he leads them into what he has really fantasized about, fucking them both. The twins are more than ready to help him fulfill his fantasy.
Scene five finds the twins sharing a magazine and they begin to kiss and jack each other. This leads - as they knew it would - to further explorations, until they are sucking each other. Eventually - since what they really want is to fuck each other - it all leads to the spirit of true brotherly love.
See also: Double Czech Twins In Lust - New
See also: Taboo