Summary:
A-Team All-Stars: Brent Corrigan is a collection of the finest sex ever shot by Falcon Studio Group A-Team exclusive Brent Corrigan. This Collector's edition includes Brent's hottest man-on-man action compiled into one steamy, dick-hardening, orgasm creating DVD. The Falcon Studio Group A-Team is a group of the most talented gay porn performers in the world, and this DVD showcases Brent's best male erotica to date.
Scene 1: Brent Corrigan & Sean Zevran
From: Falcon Edge, Jacked
Brent Corrigan and Sean Zevran face each other on the locker room bench, wearing only jockstraps, socks and sneakers. Passionate kisses start at the lips and ...

Scene 2: Brent Corrigan and Darius Ferdynand
From Poolside, Scene 1
Outside at a gorgeous pool, Brent Corrigan stands in the pool eagerly wrapping his lips around Darius Ferdynand's huge, uncut cock. From the tip of the head to the balls, Brent expertly pleasures Darius' meaty tool. Darius' abs ripple and his lip curls in erotic pleasure.
Rising up, Darius embraces Brent, eager to experience more. Brent bents Darius over on a towel next to the pool and begins an athletic, intense doggy style fucking. A light sheen of sweat covers their bodies as Brent's big dick slides in and out of Darius' hole. Trading places, Brent rolls on his back and exposes his willing hole to Darius' tongue. After a thorough rimming, Darius hammers home a connected, passionate fucking, his big, low hanging balls slapping against Brent's perfect ass with every thrust. Brent jerks his cock as Darius fucks him, and their six pack abs ripple in the golden sunlight.
With growing intensity, Darius rams Brent's ass with his big cock until Brent's load explodes onto his abs. Darius ads his own cum to the collection on Brent's abs, and they bring their lips together in a final ecstatic kiss.
Scene 3: Pierre Fitch and Brent Corrigan
From: Magnitude, Scene 1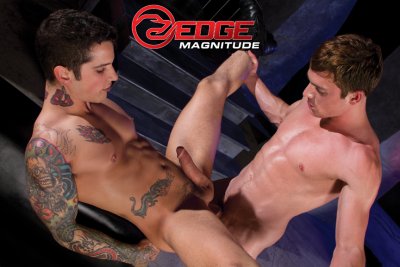 Jaw-dropping Pierre Fitch and show-stopping Brent Corrigan are two of the biggest stars to ever appear in gay porn. In this meeting of mega-stars - a decade in the making - these porn icons suck, rim and fuck as if they'll never have sex again and reveling in their long-overdue meeting. Smooth, clean-shaven, and in elite physical condition, both sport tight, black jock straps, and they simply can't get enough of one each other. Plunging tongues down throats with passion, masterfully handling dicks, and expertly devouring cock are just a few of these celebrities' talents. The kissing and cock sucking turns into deep, wet rimming, which leads to powerhouse fucking. A historic romp of epic proportions requires a flip-fuck, and horned-up Pierre and Brent deliver. First, Pierre finally savors Brent's meaty cock in his ass, taking it in doggy and missionary positions. Having the long-awaited cock in his ass, Pierre can't wait to drive his rock-hard, thick cock deep into Brent from behind, and it's clear that Brent has anticipated this moment, because he takes it like the champ he is. As the energy of this perfect match-up builds, both of them reach the bursting point and unload hefty shots of cum onto Pierre's torso.
Scene 4: Brent Corrigan and Andrew Stark
From Raging Stallion, American's Finest
Brent Corrigan is all man: his lean body is packed with defined muscle. Andrew Stark towers over Brent, with a toned swimmer's build and an epic, meaty boner. ...
Scene 5: Brent Corrigan and Theo Ford
From: Moving Up, Scene 1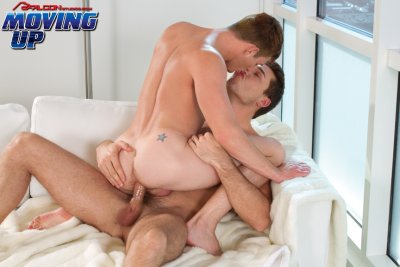 Brent Corrigan wears little but his mischievous smile at the sight of Theo Ford's massive uncut boner. They're making out on the couch, rubbing their cocks together erotically. Brent grabs Theo's cock and aims it at his mouth. Theo's furred torso rises and falls as he feeds Brent more cock and fingers Brent's prize-winning bubble-butt. They trade off: Brent fucking Theo's face and Theo rimming Brent's famous hole. When he's ready to be fucked, Brent slides backwards, where a hard cock waits to invade his warm, wet center. They're bathed in bright sunlight, pouring through expansive windows that offer broad vistas of the city below and invite thoughts of voyeurs. Brent's hole takes on its deepest and most pleasurable pounding when he's on his back, with Theo gripping his ankles to spread Brent's legs to their utmost, leaning in every now and then to steal a kiss. Suddenly Brent's nuts pull up tight in their sack and his cock discharges volleys of hot cream across his smooth torso. Theo pulls his cock out and matches him squirt for squirt.
Scene 6: Brent Corrigan and Brian Bonds
From: Falcon Edge, Jacked
Brian Bonds has grabbed Brent Corrigan from behind to rub his shoulders. Quickly, their hard dicks escape their jockstraps. Brian rubs the head of his cock up ...