Director Nir Rosenbaum presents a collection of Scandinavian youth gay porn movies under the Blue Hotel gay dvd label. Beautiful young uncut meat from Sweden and Denmark that is always at the ready in series such as Sex Stories.

Bored Stiff - Gay DVD - Studio: Blue Hotel

11 hot studs, one trio scene, 6 totally bareback scenes!

A full review will follow shortly.
Blue Hotel - Gay DVD - Studio: Blue Hotel
Blue Hotel features sexual encounters between guests at a youth hostel. A duet in one of the rooms starts things off. They sixty nine before the hotel bell boy joins in, and he gets fucked before they all shoot good loads. In the hotel hot tub three youths make out. They all receive and give blowjobs before the youngest boy is fucked until one shoots a great cumshot into another's open mouth.
Boys Playground - Gay DVD - Studio: Blue Hotel

These boys play everywhere, in the kitchen, in the bedroom, outdoors and they play bareback. 6 very hot scenes with 13 sexy boys! Condom free.
Farm Boys - Gay DVD - Studio: Blue Hotel

These horny farm boys think that there is more to life than dull garden work... and hey, they are right!!

They do it anywhere on the farm... the barn, attic or right in front of the farmhouse.
Full Service - Gay DVD - Studio: Blue Hotel
The Junk Yard monkeys in Full Service don't know their starter motors from their alternators, but they know what to do with a piston rod and how to grease a hole. We start with a duet on the bonnet of an old car, with tongues working overtime as they flick hardened nipples before trailing a line over a finely tuned stomach toward a pulsating cock and tight balls.

Ice Vice - Gay DVD - Studio: Blue Hotel
More young Euro hunks in Ice Vice who just can't seem to keep their constantly hard dicks content. Beautiful young uncut meat that's always at the ready, popping boners anytime and anywhere a cute mate crosses their paths. Sizzling two-somes, and trashy threeways, bareback sucking and fucking, with cream facial and tongue glazings.
Impulsive Urge - Gay DVD - Studio: Blue Hotel
Impulsive Urge features over a dozen young Euro studs with big problems hanging between their legs. They're constantly fighting hard-ons that just won't go down once they have the Impulsive Urge, until they relieve the pressure by plowing the hot mouths and asses of their equally horny buddies. Loads of cum everywhere, no condoms in sight, and plenty of creamy facial cumshots.
In and Out - Gay DVD - Studio: Blue Hotel

The most beautiful boys in the world have barbacking sex with each other!
Island of Lust - Gay DVD - Studio: Blue Hotel
Island Of Lust, as a title, won't strain your imagination too much. We feel fairly sure that you'll be able to work out what's going down! Pretty young boys who are rather partial to cock up their rear ends, and get very enthusiastic when big dicks shoot in their faces - there! Now you know! Cum and watch these appealing youngsters, as they suck, fuck and squirt their guy-goo, on the Island Of Lust!
Let's Play Sex - Gay DVD - Studio: Blue Hotel

Looks like it's about time to pull over and get your tank filled! Bareback sex and cum guzzling are just a few things to experience here.
Ready For More - Gay DVD - Studio: Blue Hotel
The young stud muffins in Ready For More are dark haired, handsome, firm bodied, and with dicks that will send shivers up your spine. The scenes all start with kissing and reaming before they all get down and dirty. What makes this movie stand out is the amount of close-up eye contact with both the bottoms and tops, coupled with the stroking soundtrack.
Rock Me Harder - Gay DVD - Studio: Blue Hotel

Sizzling and sticky duo and trio scenes! Hot young men...lettin' it all fly! Cock and cum crazy fun!

Loads of spunk and facial cumshots too!


Screw Me Hard - Gay DVD - Studio: Blue Hotel
Sevp productions brings you another great materpiece with young guys going at it, bareback style.

Starring: Frank, Aaron, Joy Hopkins, Milan, Parkas, Sasha, Konny, Paul, Pitico, Kalle, Dom, Patrick, Felix


Sex Stories 1 - Gay DVD - Studio: Blue Hotel

Hot guys telling all when it cums to sex! You'll get so worked up over it, you better have a cum rag ready...you're gonna explode!

Cast: Einardo, Arvydas, Morgan, Audius, Vivanto, Doddy, Dewis, Gida Slay, David, Zoltan, Gideon, and Tom
Sex Stories 2 - Gay DVD - Studio: Blue Hotel

In six brightly-lit indoor scenes, including two threeways, smooth youths tongue anus' open and then dick it full. No one pretends that it hurts. These guys love getting gouged. They spread and work their butts to get more meat. They spit on it, then sit on it.
Sex Stories 3 - Gay DVD - Studio: Blue Hotel
Sex Stories 3 has a super selection of big-dicked youngsters. A youth is clearing a room when a friend visits. Both the well-hung lads fuck and suck before they coat each other's faces. After a bedroom duet, there is a great threeway which includes a train fuck. A nice coupling with two creamy facials and a final duet end some prime 18-22 action!

Sex Stories 4 - Gay DVD - Studio: Blue Hotel

Another of these Scandinavian bareback and facial cumshot videos. Sex Stories 4 begins with two couplings with bareback fucking and creamy facial cumshots. A threeway in a shower room follows, before three more duets finish off fine 18-23 action.
Sex Stories #5 - Gay DVD - Studio: Blue Hotel

Sex stories about love, lust and sorrow with a lot of gay sex between young hot men. Sizzling sex with deep throat and barebacking scenes.
Sex Stories 6 - Gay DVD - Studio: Blue Hotel
Sex Stories 6 opens with two young guys sitting at a table. One says to the other "I'm so horny I need a blow job" - so his mate obliges, and gets on his knees to take the rigid cock in his mouth. The giver then becomes the taker as he lays his pal on the dining room table to lick his balls and finger his arse, before standing up and sliding his hard cock into his tight arse...
Sex Stories 7 - Gay DVD - Studio: Blue Hotel
The 7th in a series of young Swedish hunks enjoying each other's company in the nicest way possible. All bareback. All teens and twinks. All out horny action. Nice.
Sex Stories 8 - Gay DVD - Studio: Blue Hotel

Another collection of Swedish hornbags screwing the arses off each other bareback, then drowning themselves in spunk. Not much else to do on those cold winter nights, I guess...
Sex Stories 9- Gay DVD - Studio: Blue Hotel

Swedish youngsters in all bareback action with volcanic eruptions of cum featuring in every scene. Very horny indeed!...
Sex Stories 10 - Studio: Blue Hotel

More bareback and facial cumshot action in Sex Stories 10. A highlight is a hot threeway with some super horny guys. Set in a big wooden cabin, they all trade blowjobs until they move to a sizzling double anal penetration followed by an expertly manoeuvred daisy chain! Amazing! Big messy facials round off a great scene. Plenty more action too, with smooth, toned bodies, throbbing cocks and raunchy sucking and fucking.
Sperm Limit - Gay DVD - Studio: Blue Hotel

There actually is no limit in Sperm Limit: 13 of the hottest Swedish guys available give us their loads in 6 massive bareback scenes!
Young Studs - Gay DVD - Studio: Blue Hotel

Horny young guys showing what they can do with their big cocks to the camera!!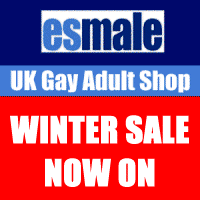 Esmale (UK Gay Adult Shop) sells a large range of gay adult sex toys including a range of fetish and restraint products, Cock and Ball play items, Whips, Paddles and Slappers, Blindfolds, Masks and Hood and are the UK stockist of Mr B leather and fetish products. They also sell a large range of men's designer underwear, condoms and lube, fleshjacks, jock straps and anal toys. Treat yourself!
Save an extra 10% on top of their already discounted prices with our exclusive code 'GAY10'. Click here to shop
See also: www.gayadultshops.co.uk