Tainted Twinx specialises in hardcore bareback twink porn dvds. With titles like Bare Candy, Bare Millionaire and Bare Nature, you know you're in for a lot of hot bareback gay teen action.

Bare Bikers - Gay DVD - Studio: Tainted Twinx

Toned and cute biker boys indulge in an outdoor cumfest in Bare Bikers as a hard day's riding through the open countryside builds their appetite - for hard and hot sex! The lads take time out from their bike race to take an entirely different form of riding - riding each other's cute tight arses bareback!
Bare Camp - Gay DVD - Studio: Tainted Twinx

12 charming & Hot Young Studs, Totally Bareback, 2 trio scenes, cum eating and a XXX photo Gallery. You never seen boys like this at camp before! Big grown boys, with big hard cocks and even bigger plans of making a name for themselves in this movie! Never mind the boy scouts, this one is for the ones who really want to rise to the occasion!
Bare Candy - Gay DVD - Studio: Tainted Twinx

Bare Candy is about twinks, twinks and more twinks! These pretty bareback boys suck and fuck in twos, threes and even in groups! Young handsome bakers get their smooth chests dusted with flour as the workplace turns into a bum-boy bonanza! Well over two hours of action includes no less than sixteen horny lads having their rock-hard cocks seen to!

Featuring: George Basten (Jakub Jelinek)
Bare Champions - Gay DVD - Studio: Tainted Twinx

Bare Champions features a fine cast of hot young twinks proving it takes balls to be a champion. Six raunchy bareback scenes await you as these fit young lads compete to be head of the team. In the changing rooms two horny young boys take a break from their training regime to feast on each other. These slender twinks lock lips and cocks before meaty dicks are thrust inside tight arses in a flurry of fucking action!
Bare Eagles - Gay DVD - Studio: Tainted Twinx

Put together a group of horny fresh young scouts, balls brimming with juicy young cum, and anything and everything can happen. For 160 minutes Bare Eagles surrender to their raging hormones in the most intense bareback scenes ever to grace the screen. In a dormitory two sexy scouts tenderly kiss and caress each other.
Bare Gangsters - Gay DVD - Studio: Tainted Twinx

Caught red-handed shoplifting or breaking into buildings, the bad boys in Bare Gangsters can choose between doing time in the slammer - or working off their punishment on the spot! A bad-ass gangsta' kidnaps a young twink at gunpoint and, with a gun to his head, demands that he sucks on his bare cock.
Bare Goal Kick - Gay DVD - Studio: Tainted Twinx

You won't see Spain or Holland taking a Bare Goal Kick. No, this is the real world cup - a place where eleven fit young twinks score every time! No need for substitutions as these guys can go all the way! After a ninety minute game, Eliot, Luke and Dennis retire to the changing room for a cool-down.


Bare Lessons 1 - Gay DVD - Studio: Tainted Twinx

Bare Lessons is about school mates letting it all hang out. These guys are just waiting for the end of the school day so they can spend some quality time with some friends - which means they go about fucking young tight assholes while they squeal with pleasure. Eleven handsome as hell 18-20 year old Czech lads with smooth tight young bodies, hung cocks and little bubblebutts.
Bare Lessons 2 - Gay DVD - Studio: Tainted Twinx

Bare Lessons 2 is another of those atmospheric, beautifully-filmed gay dvds from Vimpex, set - as ever - in a rural middle Europe (probably the Czech Republic). The surroundings for this six-scene collection is a rather quaint boarding school, where the pretty-boy students wear a fetching uniform, not unlike a sailor-suit.
Bare Millionaire - Gay DVD - Studio: Tainted Twinx

Poor little rich boy! With so much time on his hands he has to find ways of filling the day - so what better way to start the day than arranging a masquerade party and inviting all your friends along in a white stretch limo. We watch in jealous awe as one of the friends warms up for the party with a bar man. The two are soon naked, their smooth fit bodies unabashedly on show.
Bare Mountains - Gay DVD - Studio: Tainted Twinx

Incredibly hot scenes all totally bareback with facial cumshots, cum eating, a photo gallery. Yeee-haaaw!! Ride 'em cowboy, and in this great movie the hot boys do just that and more! If you love the great outdoors like these boys do, you'll be enjoying this for many long hard hours, with your own hard on of course.

Bare Nature - Gay DVD - Studio: Tainted Twinx

Its summertime - and what better way to while away an afternoon than hot rampant sex outside in the warm sunshine. In this latest offering from Tainted Twinkz, Bare Nature features fourteen gorgeous like-minded young studs with just one thing on their mind - total bareback sucking and fucking.
Bare School Days - Gay DVD - Studio: Tainted Twinx

Do you remember your school days? Don't you wish they had been filled with hot sex with your fit smooth classmates? Well here you can live out these fantasies as the lads strip, suck and fuck bareback! 6 scenes of raw hardcore action in the toilets, in the classroom and in the woods.
Bare Scouts - Gay DVD - Studio: Tainted Twinx

Robert Baden Powell never imagined his scouts would get their activity badges doing what these lads do in Bare Scouts. Talk about dib, dib, dib and bob a job week - they would make their Arkayla proud! These young lads - complete with woggle and hat - want to'be prepared and get hands-on and tongues-on experience in the art of fellatio and penetrative bareback sex.

Bare S.W.A.T. - Gay DVD - Studio: Tainted Twinx

Young hard guys from the SWAT Team are busting some virgin asses in Bare S.W.A.T. Spunk filled sessions in the police camp with young roughnecks being punished by massive cocks is the order of the day - but sometimes even tough officers need a little hard loving.

After another successful mission, two guys not only pull of their balaclavas - they pull each other off too!..
Bare Tales - Gay DVD - Studio: Tainted Twinx

Bare Tales is a kind of twink version of a Brothers Grimm story. Pretty boys dress in oldy-worldy costumes, then take them off - and suck, rim and sodomise one another with gay abandon! In all, thirteen beautiful boys get it on, totally bareback, for your entertainment. Six long scenes fill up two hours of disc time with facial pop shots, cum-swallowing and the horny, magical power of ancient days!
Bare Trip - Gay DVD - Studio: Tainted Twinx

Ten brand new boys from Argentina are having a sex party in Bare Trip. Wanna cum? There's a secret party going on and you need a magic ticket to get access! Apparently someone chose who to invite very wisely, since all ten party-goers are extremely young, cute and smooth.
Bare Trunks 1 - Gay DVD - Studio: Tainted Twinx

Dive into the deep end with Bare Trunks, featuring twelve gorgeous ripped young bucks bulging out of tiny swimsuits. Each scene ends with a huge cumshot on a freshly fucked asshole. Enjoy six bareback scnes for over two hours of wet and sticky action!


Bare Trunks 2 - Gay DVD - Studio: Tainted Twinx

You won't find Tom Daley in Bare Trunks 2, although that's one cute and super-fit twink we'd all like to take a swallow dive on to. However Bare Trunks 2 is swimming with young gorgeous ripped young bucks, and every one of them is bulging out of their tiny Speedos. The opener sees four gorgeous boys larking about in the pool.

Below The Cowls - Gay DVD - Studio: Tainted Twinx

Below The Cowls is quite simply beautiful! Set in a baroque-looking monastery in what appears to be central Europe, this is a boys-and-cocks flick with high production values. It's easy on the eye, from the early twentieth-century costumes to the winter sunset atmospherics - and that's before we feast our eyes on the thirteen young boys on offer!
Blazing Flames 1 - Gay DVD - Studio: Tainted Twinx

There's nothing hotter than a fireman quenching the flaming desires of a horny colleague, and the young twinks in Blazing Flames do just that. These lads are extensively trained primarily to put out hazardous fires, but when there is a smouldering boy that needs immediate attention, these uniformed babes are there in record time.

Blazing Flames 2 - Gay DVD - Studio: Tainted Twinx
See gorgeous fireworkers getting their fill of huge thick dicks. They get sucked and their holes fucked by their hung mates. Loads of spunky facials! Enjoy twinks involved in anal action, cum eating rimming, and more....
Cocky Pupils - Gay DVD - Studio: Tainted Twinx

Cocky Pupils is about the passion and yearning that being a long way from home encompasses. Education can be a hard lesson or a tender embrace as the first young lad discovers when he is dragged from the boot of a car and into an abandoned house. Once there, he is forced to his knees as a hard cock is shoved down his throat.
More Cocky Pupils - Gay DVD - Studio: Tainted Twinx

Bareback young convicts prove that life behind bars has a rock hard and cum covered side to it, which they exploit to its fullest in More Cocky Pupils. Uninhibited and unrestrained, these guys just love fucking and can't get enough cute, tight ass and hot, thick bare rods.

Cast: Paul Stevens, Efrain Hall, Daniel Wood
Jamboree Sluts - Gay DVD - Studio: Tainted Twinx

It's Mike's Birthday and all of his friends are the ultimate gay Jamboree Sluts who can't wait to get the party preparations underway. Balloons and banners are festooned and the food is being prepared. When Mike arrives he gets his first present of the day - a thick cock up his arse! His cute blonde pal wants to be the first, and gives it to him hard and bare - a present he's not likely to forget in a long while.
Office ASSets - Gay DVD - Studio: Tainted Twinx

There is no better way to let off steam at the end of the day than by getting a good feel for your co-worker's Office ASSets. These boys get hard, give head, and get butt-laid. Everyone needs a little down time in the boy´s room and these boys certainly get down together. Every office has a bully, but don´t get intimidated - get intimate!
Pathfinder's Sensation - Gay DVD - Studio: Tainted Twinx

It's off to the country for the horniest filthy-minded pups that you can ever imagine, all donning their legion's uniform for a weekend of mindless cocksucking and ass pounding in Pathfinder's Sensation! Minutes after arriving, the young beauties have stripping down for session after session of the hottest twink action you're ever likely to see.

Skater Checker - Gay DVD - Studio: Tainted Twinx

Skater Checker from Tainted Twinx sees fresh, young twinky boys rolling their out of control cocks into wet tight holes. Mario Luna and his hot skater pals leave the skateboards behind and indulge in some deliciously filthy bareback action. Full of hot bare ass splitting and cum eating, it's a fuckfest full of smooth and tight-bodied twinks, cock gobbling and dicks drilling tight boy butts!

Snow Twinks Snowballs - Gay DVD - Studio: Tainted Twinx

Even when it gets cold outside, the boys in Snow Twinks Snowballs know how to warm things up! Nearly three hours of delectable twinks turning up the heat, as their snow-play gets even hotter when they get inside. You'll be wondering why the snow doesn't melt from all the hot sex that's generated!
Sweaty Boys Filthy Friends - Gay DVD - Studio: Tainted Twinx

Sweaty Boys Filthy Friends sees a gaggle of fresh young twinks out of control and slipping hard cocks into wet tight holes. This flick is rammed with hot bareback ass splitting action and cum eating. It's a fuckfest full of smooth tight bodied twinks. They are ready to fuck in 100% bare and raw twink action!
Tasty Sluts Inside - Gay DVD - Studio: Tainted Twinx

Are you in need of raw hot sex? Then Tasty Sluts Inside will deliver! These hot guys know how to get down and dirty with hot sucking and hard fuck scenes. Beautiful young twinks discover what they all have in common, huge horse-hung cocks! These insatiable twinks don't waste any time before plowing each other balls deep!

Cast: Xander Hollis, Ariel Varga, Others
The Raw Vacation - Gay DVD - Studio: Tainted Twinx

Tise Raw Vacation has got the cutest, youngest and nastiest twinks ever. Fresh, young boys with out of control push deep into warm, wet mouths and eager and willing tight holes. This holiday season is going to be full of hot bareback, ass splitting action with a lot of cum eating thrown in. It's a fuckfest full of smooth and tight bodied boys. With 100 minutes of raw action, this is one vacation you'll want to book tickets for!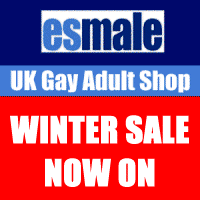 Esmale (UK Gay Adult Shop) sells a large range of gay adult sex toys including a range of fetish and restraint products, Cock and Ball play items, Whips, Paddles and Slappers, Blindfolds, Masks and Hood and are the UK stockist of Mr B leather and fetish products. They also sell a large range of men's designer underwear, condoms and lube, fleshjacks, jock straps and anal toys. Treat yourself!
Save an extra 10% on top of their already discounted prices with our exclusive code 'GAY10'. Click here to shop
See also: www.gayadultshops.co.uk