Cobra Video specialised in capturing the erotic energy of American youth. Featuring first timers, their gay twink porn dvds gave the intensity and realism that the viewer wanted and their exclusive boys ranged from cute smooth virgin twinks (including Brent Corrigan) to hot toned jocks. All delivered outstanding performances. Cobra Video stopped filming in 2007 when director and owner Bryan Phillips was murdered by one of his prospective models.

Cobra Anthology Bareback Boys (3 DVD set) - Studio: Cobra Video

Cobra Anthology: Bareback Boys presents a collection of over five hours of boys fucking each other raw! This classic collection contains Austin's Beach Buddies, A Boy's Raw Urges, and Naughty Boy's Toys.

Cast: Austin Sterling, Justin, Tyler, Kaipo, Jonathan, Devon, Cameron Lane, Cody Lockheart, Brent Corrigan, Skylar Clarke, Connor Ashton, Aaron Phelps, Tyler Hall,
The Orgies Anthology (2 DVD set) - Studio: Cobra Video

The Orgies Anthology is a two disc Cobra Video set where you will find the best of the best twinks fucking each other senseless.

It's packed with lithe boys just romping away at every hole available. All raw - all the time!
Casting Couch Anthology - (2 DVD set) - Studio: Cobra Video

The series that started it all is now back in print! Casting Couch Anthology is a two disc set that contains the first casting sessions chronicled in Casting Couches 1-3 and features the cutest and hottest all-American guys that put Cobra Video on the map. Watch five hours of beautiful twinks stroking it out and showing off for you!
Cast: Brandon Croft, Aaron Phelps, Armon Maderas, Jaysen Fine, Austin Sterling, Ehtan Armstrong, Others
A Boy's Raw Urges - Gay DVD - Studio: Cobra Video
The first of the six hot scenes in A Boy's Raw Urges features toned topboy Bailey and smooth twink Jaimie. Bailey makes Jamie him strip off his jogging pants and lick his cock through his jock strap before Bailey unleashes the beast and tells Jaimie to suck on it then to sit on him.
Austin's Beach Buddies - Gay DVD - Studio: Cobra Video
Another great release from Cobra. 2 hours of super boy action without condoms, twosomes , threesomes and fabulous sex. One cute stud just loves being fucked and we get to see great shots of the pre-cum drooling out of his dick! Highly recommended.
Bareback Beach Boyz - Gay DVD - Studio: Cobra Video
Awesome Film! Dawson's Creek types, hard smooth bodies, big fat boners, barebacking and bondage. Buy, Buy, Buy.

Bareback Beach Boyz has it all, from very young looking twinks to muscular jockboyz. Armon, a just turned eighteen Italian/Spanish boy, is basking by the pool....
Brent Corrigan: Beautiful Boy - Gay DVD - Studio: Cobra Video

Brent Corrigan: Beautiful Boy is the definitive Cobra dvd, and features Brent in some smouldering scenes from his early works, including scenes from the world bestsellers Fuck Me Raw, Cream BBoys and Take It Like A Bad Boy.

Cast: Brent Corrigan, Skylar, Connor Ashton, Cameron, Carson
Campus Boyz 3 - Gay DVD - Studio: Cobra Video
The best USA teen movie I have seen.These amateur productions from Cobra cannot be beaten. I really urge you to buy this - sexy as hell teens in great bareback action- dont be put off by the crap cover! 2 Hours !
Casting Couch 1 - Gay DVD - Studio: Cobra Video
Gorgeous All-American teens, sweet young faces, fit smooth bods, hard cut cocks...another winner from the unstoppable sweet 'n' smooth teen-machine Cobra!
Casting Couch 2 - Gay DVD - Studio: Cobra Video
Castings at Cobra are for sure the most exciting you can find in DVD. 10 teenagers are going to show just for your eyes, and jerk off, talk with the camera, tell their fantasies, and cum a lot. More than exciting.
Casting Couch 3 - Gay DVD - Studio: Cobra Video
An excellent film, has totally hot young studs in it. Packed with X factor moments. Includes cum in the mouth, facial cum shots, dildos and sexy underwear.
Charmed - Gay DVD - Studio: Cobra Video
Another fantastic Cobra release which is right up there in my mind with Campus Boyz 3. The guys are smooth n sexy and the cocks big with some really great sex. The cover is crap but trust me buy it anyway. 2 HOURS!!
Cream BBoys - Gay DVD - Studio: Cobra Video
Ten very naughty Cobra boyz in 5 glorious bareback scenes. Big cocks, shaved holes. Loads of cum-in-the-mouth and cum-up-the-arse scenes. Fucking wonderful!
Fuck Me Raw - Gay DVD - Studio: Cobra Video

Fuck Me Raw is Cobra's first release from the Brent Corrigan series and is a 100% bareback production. The opener contains four creamy loads. Shaun is napping with Cameron and Shaun wakes up to start kissing and nibbling on Cameron's ear. Shaun peals down his underwear and licks Cameron's hard, fat cock, stroking and sucking it until the boy grimaces with pleasure and creams into Shaun's mouth. Cameron returns the favour and sucks on Shaun who also groans with delight and as he cums.
Naughty Boys Toys - Studio: Cobra Video - Best Seller

Cute smooth naughty boys play with themselves, their friends and some great toys! Includes a very horny xxx bareback scene and several scenes with Cobra favorite Brent Corrigan!
Outdoor Boyz - Gay DVD - Studio: Cobra Video
A sensational film with cute, very sexy randy teen lads having great bareback sex, solos, and sucking action with each other. The lads really go for it and it shows!
Take It Like a Bad Boy - Studio: Cobra Video - Best seller

Cody is hanging out at the beach and notices Leo, a life guard. At Leo's place, he grabs a shower leaving Cody in the living room to watch TV. Cody cant resist a peak at a straight guys naked body, but soon Cody's clothes are stripped off and he wants to get wet too. Leo isn't to happy about his shower being interrupted by a naked boy.
The Brent Corrigan Sex Tapes - Gay DVD - Studio: Cobra Video

See Brent in all his glory performing in ways never before seen in The Brent Corrigan Sex Tapes. Whether the performer is called by his most famous name or if he is referred to by his real name, Sean Lockhart, this young star is the talk of the town. Often controversial, but always sensual, fans love watching him on screen. The Brent Corrigan Sex Tapes features unreleased scenes from his years at Cobra Video that everyone will want to add to their collection.
New - Available from Dirty Bird featuring Brent Corrigan
Brent Corrigan's Summit - Studio: Dirty Bird
When a group of hot guys share a cabin at Lake Tahoe, they find themselves involved in one hot sex exploit after another! Don't miss the fresh perspective that Brent brings to the classic winter break tale.

Starring: Brent Corrigan, Mason Wyler, Reese Reynolds, Damien White, Kodie Payne, Brooklyn Ray, Adam Wells, Keegan Kemp, Jacob Powell, Justin Tyler
Just The Sex - Gay DVD - Studio: Dirty Bird
This special DVD is so packed with with what you want, just the sex, that we had to make it dual-layer to fit it all on! These hot scenes are brought to you in conjunction with Prodigy Pictures, and have never been seen before.
Just The Sex 2 - Gay DVD - Studio: Dirty Bird
Sexy Brent Corrigan is back with another all new collection of hot young newcummers in Just The Sex 2. Throughout each scene, the viewer is invited to witness what it's like for these young men to come together on camera, enjoy themselves and share their lust for life - and each other. These scenes are more than the usual wham, bam thank you man porn that litters shelves today.
The Porne Ultimatum- Studio: Dirty Bird
Chason Porne must fuck friends & enemies to uncover the truth about his identity after being beaten and raped by goons. Follow him on his action-packed journey filled with guns, hi-speed chases, oral, anal, rimming, domination, threesomes and giant cocks!

Starring: Brent Corrigan, Mason Wyler, Barrett Long, Brant Moore, Kaden Saylor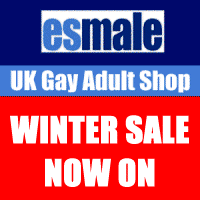 Esmale (UK Gay Adult Shop) sells a large range of gay adult sex toys including a range of fetish and restraint products, Cock and Ball play items, Whips, Paddles and Slappers, Blindfolds, Masks and Hood and are the UK stockist of Mr B leather and fetish products. They also sell a large range of men's designer underwear, condoms and lube, fleshjacks, jock straps and anal toys. Treat yourself!
Save an extra 10% on top of their already discounted prices with our exclusive code 'GAY10'. Click here to shop
See also: www.gayadultshops.co.uk