Men Of Odyssey was one of the most prestigious gay porn dvd studios from the 1990s and 2000s. Odyssey brought Joe Gage out of retirement to direct, gave Chad Donovan his first directorial gig, and even got Zak Spears back in front of the cameras after a long hiatus.

Bed and Breakfast - Gay DVD - Studio: Men Of Odyssey
Enter the world of the enchanted cottage - a Bed & Breakfast Inn where dreams of desire, love and lust become a reality! Where guests are serviced with a smile...and more! Cast: Ryan Block, Jason Broderick, Pierce Coppola, Dan Lyons, Johnny Rey, Tyler Scott, Devon Stone, Josh Taylor, Brandon West

Bello Solo Mio - Gay DVD - Studio: Men Of Odyssey
Bello Solo Mio puts an Italian accent on the universal language of hard throbbing cocks with the hottest collection of Italian man-meat in an amazing solo action feast for the eyes. When you see Euro-Superstar Marco jerk off on a bridge in Milan you'll be aching to drop to your knees.

Black Power, White Surge - Gay DVD - Studio: Men Of Odyssey

There are very few decent videos in the genre of interracial gay male porn so when a production as good as Black Power White Surge comes along, it's special.

Cast: Victor Rios, Jack Simmons, Scott Thornton, Eric Butler, Marco Paris, Zane West, Soloman, Mike Radcliffe


Carnal Intentions - Gay DVD - Studio: Men Of Odyssey
Carnal Intentions garnered a whopping 12 GayVN nominations in 2002, including a win for Best Actor Tony Donovan, and its easy to see why. Tony and Chad Donovan play sickeningly rich and immoral step-brothers, always looking for the next score and trying to top the other with their exploits.


Double Cross - Gay DVD - Studio: Men Of Odyssey
Never trust a pretty face, especially one you met in jail. Young, cute Angel (Christian Taylor) can charm the pants off anyone, and he has! Watch him use sex to manipulate everyone he meets, in and out of the pen - and no one seems to complain!

Drilling School - Gay DVD - Studio: Men Of Odyssey
Who knew drilling was a skill that one needed to go school to learn? Apparently, things are more complicated in Hungary, where this feature was shot. The drilling in question is ostensibly of the electric band saw variety, but when a visiting bureaucrat visits the premises, he finds that the pupils are a lot more skillful with what's under their overalls than with the machinery.

Gang Bang Cafe - Gay DVD - Studio: Men Of Odyssey

While on a date with Spike, Ryan Chandler ducks under the table and gives him a hot hummer to start Gang Bang Cafe. They take the action indoors getting naked and showing off for cafe patrons Joey Caruso and Antonio Majors. After seeing Spike's hot cock, Majors and Caruso join in and watch Spike bang Chandler's cute bubble ass.

Ibiza Hard - Gay DVD - Studio: Men Of Odyssey
The island of Ibiza serves as a backdrop for seven frolicking guys doing the wild thing in Ibiza Hard. Though slow in heating up, the pace eventually quickens and the romping becomes more inspired. A poolside orgy kicks things off (complimented by the gorgeous island setting) between the uncut boys - all fit and sexy.

Idol In The Sky - Gay DVD - Studio: Men Of Odyssey
Megastar Ryan Idol rips out the sky in an actual L-39 jet and into his most lavish movie to date. As the bad ass fighter pilot, commander ace idol, he uses the raw power of the U.S.Navy and his huge dick. To keep his men on their toes. Watch as this amazingly hot cast flies, drives, runs, rides and even jumps from the sky to please the man in charge. When commander idol is base, every recruit, and every cock, stands at attention.
Movin' On - Gay DVD - Studio: Men Of Odyssey
Just how well does first-time director Chad Donovan understand good sex? He was obviously paying attention during his years of experience in front of the camera, and in Movin' On he proves you don't need the biggest name stars, a heavy script or a big budget to make one hell of a hot feature.



Naked Juice - Gay DVD - Studio: Men Of Odyssey

What do erotic video stars do when they're all alone? Now OMV gives you the chance to go home with five of the hottest male stars of erotic entertainment and watch as they share their most intimate, private moments. Don't miss the Naked Juice!

Cast: Sean Michaels, Peter North, Eric Price, Sean Ryder, Mr. Marcus
Never Say Never - Gay DVD - Studio: Men Of Odyssey
Here's a switch: the orgy comes at the beginning of the dvd (via flashback), not the end. Once the flashback orgy is over, three pairs of lovers end up doing each other. The flashback-orgy is hot, and the cast of Never Say Never is varied and buffed.

Past Memories - Gay DVD - Studio: Men Of Odyssey
Shot In Hungary. They may be young but these hunks still have memories. Sex is a way of life in Eastern Europe. It doesn't matter where you are, if the urge strikes you...deal with it. Sometimes a memory is better that reality.
Risky Sex - Gay DVD - Studio: Men Of Odyssey

"Where's the strangest place you've ever had sex? Sometimes you gotta have it, no matter where, no matter when."


Starring: Bo Summers, Cort Stevens, Aaron Austin, Johnny Rey, Jay Corey, Rick Kamen, Cristen Mathews, Jareth, Will Roberts

Ryker's Revenge - Gay DVD - Studio: Men Of Odyssey
Porn Superstar Leaves Industry! 2000 Empire Award Winner for "Best Gay DVD" ...and horny cub reporter Joey Hart wants to know why. Hot on the mega-hunk's trail he interviews Ken's former on screen fuck-toy Logan Reed, veteran gossip columnist (and trouble maker) Christopher Dixon. Starring Ken Ryker


Sex Posse - Gay DVD - Studio: Men Of Odyssey

Discover the darkest secrets behind this notorious band of sexual renegades in Sex Posse.

Cast: Daryl Brock, Rob Cryston, Tanner Reeves, Derek Baldwin, Bryse Denim, Brett Ford, Dan Lyons, Karl Redford

Something Very Big - Gay DVD - Studio: Men Of Odyssey
They're Cute, Young, Hung and Horny! Ahhh, Youth! There was a time of innocence in all our lives. Here is a chance to relive your sexual coming of age to relive your sexual coming of age with a cast of video first-timers.

Stud Valley - Gay DVD - Studio: Men Of Odyssey

Vacation beneath a mountain of men. Hit the slopes with the men of Stud Valley and Jack Frost will be nipping at more than just your nose.

Cast: Cort Stevens, Dean Johnson, Bo Summers, Tanner Reeves, Jake Andrews, Sam Hunter, Anthony Gallo, Jason Andrews
The Joint - Gay DVD - Studio: Men Of Odyssey
The Joint begins with a recap of Journey Back's cum-soaked finale in which Spears publicly engages in some lewd conduct (notably sucking, rimming and double-fucking in a subway station). Caught by the fuzz, he and cohort Martinez are convicted to 90 days in the joint. Imagine that! Busted for committing sodomy in public, they're sent to the slammer - where both are sure to be sodomized!
The Pharoah's Curse - Gay DVD - Studio: Men Of Odyssey
The Pharaohs of Egypt indulged their every sexual whim with no thought of others and no regard to consequences. But when the Pharaoh was betrayed, everyone paid… sometimes for generations. "The Pharaoh's Curse" follows the path of a garment used by the Pharaoh during one of his bizarre sex rituals. After its theft by a peasant, a curse of sexual obsession possesses all who touch it!
Top Secret - Gay DVD - Studio: Men Of Odyssey
Corey Summers is an agent for the other side (or is he?)! Jack Ryan needs him to get more deeply involved than he usually would (or is that really Corey?)! The spy game will never be the same now that we've got new ways of passing information!
Tulsa County Line - Gay DVD - Studio: Men Of Odyssey
Legendary director Joe Gage came out of a self-induced retirement to direct this sprawling tale of two hunks (Jason Branch and Jake Armstrong) who travel the Tulsa County Line and all the sexual encounters that they either witness, participate in or pass by.


Twins - Gay DVD - Studio: Men Of Odyssey
Gorgeous identical Spanish twins, Gabriel and Oscar, are hot blond Griff Thorson's big surprise. After calling an ad and having the time of his life, he calls again and has a completely different experience! Intrigued, he calls once more, after telling his boyfriend of his encounters! That third call brings a double dose of Spanish pleasure!

Wet Dreamer - Gay DVD - Studio: Men Of Odyssey
Some Days Its Hard To Get Out Of Bed... Sometimes Its Just Hard! Los Angeles, 1959. A mysterious figure appears in the dreams of a group of students, allowing them to explore their deepest sexual fantasies. Who is he? Where does he come from? What does he want?


White Party Boiz - Gay DVD - Studio: Men Of Odyssey

30,000 muscle-bound, tanned and horny men descend on Palm Springs every Easter for what is to be described as the ultimate circuit event of the year! If you've never been, it's time to experience it!

Starring: Tom Daniels, Matt Maors, Tony Ryan, Casey Williams, Antonio Madiera, Sam Dixon and more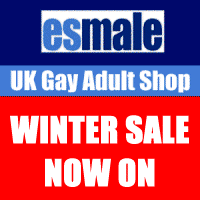 Esmale (UK Gay Adult Shop) sells a large range of gay adult sex toys including a range of fetish and restraint products, Cock and Ball play items, Whips, Paddles and Slappers, Blindfolds, Masks and Hood and are the UK stockist of Mr B leather and fetish products. They also sell a large range of men's designer underwear, condoms and lube, fleshjacks, jock straps and anal toys. Treat yourself!
Save an extra 10% on top of their already discounted prices with our exclusive code 'GAY10'. Click here to shop
See also: www.gayadultshops.co.uk