Randy Blue Productions is an award-winning USA producer of gay porn dvds. Founded in 2002 by Randy Blue, Randy Blue Productions are well known for their slick production values and great looking gay guys.

Bangin Both End 2 - Gay DVD - Studio: Randy Blue Productions

What guys do when they're alone that they never tell their friends about is the subject of many fantasies and was the subject of the hit dvd, Bangin' Both Ends. Since the collection of hungry hole action shots was so huge, it was decided to revisit the scene in Bangin' Both Ends 2. When Benjamin Bradley and Sean Everett wake up hung over from a wild night on the town they find that they somehow picked up a third...
Fill My Ass Now - Gay DVD - Studio: Randy Blue Productions

Some guys just love getting it in the ass. It doesn't matter if it's a finger, a toy or a nice thick juicy cock - as long as they're getting their hungry holes stuffed they're more than happy. This collection in the dvd Fill My Ass Now features guys that can't get enough ass play and the men that love stickin' it to them.
Alley Cats - Gay DVD - Studio: Randy Blue Productions

Randy Blue is proud to present Alley Cats - an xxx tribute to film noir, Alley Cats tells the story of Johnny Malibu, a handsome stud who gets his kicks in the alley behind the Dragonfly Nightclub. The year is 1953, a time when homosexuality was treated as a criminal offence. Johnny and the other "alley cats" would go on the prowl in order to find hot sex with other guys.
The Locker Room 2 - Gay DVD - Studio: Randy Blue Productions

Randy Blue takes you deep inside your wildest gym fantasies in The Locker Room 2. You've seen him working his amazing muscular body out with the free weights. You've imagined how hot it would be to run into him in the showers, to help him soap up his huge biceps and run your hands down his glutes - could it ever become a reality?
Bang Me - Gay DVD - Studio: Randy Blue Productions

The guys in Bang Me were all practically begging to do a shoot with each other - so what better way to make the hot sticky magic happen than to give them a chance to get it on. Christian Sharp is one of those guys who walk into a room and everyone looks. He's got the most adorable face with those puppy dog eyes and beautiful smile.
Boyfriend For A Day 2 - Gay DVD - Studio: Randy Blue Productions

There are guys who fuck and then there are guys who build a connection. For the brief time they are together, regardless of being strangers who meet on the street or fuck buddies who get together from time to time, they are so into it that the sexual energy between them could cause sparks.

Cast: Diego Sans, Malachi Marx, Roman Todd, Shane Fisher, Brett Swanson, Caleb Strong, Chip Tanner, Eric Pryor
Cum Smack 2 - Gay DVD - Studio: Randy Blue Productions

Cum Smack 2 is full of hot jizz - creamy white, shooting on chests and faces. Some call it the money shot, with all things leading up to it, and some think of it as the icing on the cake, topping off the delicious heat and sweat that comes from trying to get to it. Whatever it is, these guys are all about it
Cum With Benjamin Bradley - Studio: Randy Blue Productions

Benjamin Bradley has a face that is instantly recognizable, a body that that drops jaws and demeanor that is both powerfully sexy and down to earth charming all at the same time. Every scene he's done for Randy Blue is filled with a sexual energy and smooth eroticism that will totally make you want to Cum With Benjamin Bradley.
Fucked by Chris Rockway - Studio: Randy Blue Productions

Chris Rockway is one of those guys who helped define the look and feel of Randy Blue. His suave handsome features and incredibly hot body endeared him to fans of the site overnight and brought us countless more. He's been a porn star stud on the site, a vampire, a detective and a total bastard in our movies, but he's done it all with such an intense sexuality and dramatic flair that you can't help but pop a boner anytime you see him on screen.
Leo Giamani's Cock - Studio: Randy Blue Productions

Leo Giamani walks into a room and all conversation stops. This guy's got it all- handsome Italian features, a body Michelangelo himself could have carved from the finest marble, and a cock that causes some to cower in fear and others to drool with anticipation. Any time this hunk steps in front of our cameras it's pure sex on video, but still we've compiled a few of Leo's finest moments with Randy Blue in Leo Giamani's Cock.
That 70's Gay Porn Movie - Studio: Randy Blue Productions

Randy Blue and his production team have fashioned one of the year's most creative titles in That 70's Gay Porn Movie. An obvious hardcore spoof of the now-defunct television show, you'll be taken aback at how really well done this film has turned out. From the tacky costumes and campy music score, right on down to fake film emulsion "scratches" designed to replicate the appearance of a 70's-era porn loop, the look of this flick is fantastic.
The Coach 1 & 2 - Gay DVD - Studio: Randy Blue Productions

Lots of guys have a jock fetish. There's just something about the muscular body, straining the muscles while running and jumping. Beads of sweat making the hunky skin glisten while the jockstrap perfectly frames the sexy ass and bulging package. But behind every horny jock is a powerful man, the one who moulds him into what he will become.
Man Rammin - Gay DVD - Studio: Randy Blue Productions

Some guys are all about the ass. In Man Rammin' getting some booty is what its all about. With a wild collection of settings and situations Randy Blue proves that it doesn't matter where you are, when the need for getting fucked strikes you just have to go with it.

Cast: Malachi Marx, Reese Rideout, Gabriel Shams...
Never Been Fucked - Gay DVD - Studio: Randy Blue Productions

Everyone remembers the first time they got fucked. For some it was with a boyfriend they were very romantic with, for some it was a nervous first date and for some it was a bathhouse trick they never expected to see again. Regardless of what the case may be, few people have that moment saved on video.

Cast: Malachi Marx
Reese Rideout's Fucking Around - Studio: Randy Blue Productions

Reese Rideout is one of those exceptional guys. From the first day he appeared on Randy Blue the fans went nuts for him. His adorable boyish face, that incredible chiseled body, and his charismatic charm emblazoned his sexual energy across the internet. Reese Rideout's Fucking Around features some of his best videos.
Sex With Jeremy Walker - Gay DVD - Studio: Randy Blue Productions

Anyone who's done a scene with him will never forget having Sex With Jeremy Walker. Jeremy Walker looks like a Greek statue come to life. Muscle on top of muscle, with a pretty nice love muscle hanging between his meaty thighs. A nice dusting of neatly trimmed dark hair spreads across a pair of pecks that are so tight you just want to dig your fingers into them, leading down to a stomach you could lick for days.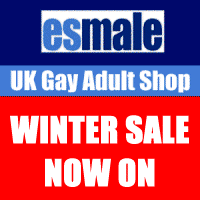 Esmale (UK Gay Adult Shop) sells a large range of gay adult sex toys including a range of fetish and restraint products, Cock and Ball play items, Whips, Paddles and Slappers, Blindfolds, Masks and Hood and are the UK stockist of Mr B leather and fetish products. They also sell a large range of men's designer underwear, condoms and lube, fleshjacks, jock straps and anal toys. Treat yourself!
Save an extra 10% on top of their already discounted prices with our exclusive code 'GAY10'. Click here to shop
See also: www.gayadultshops.co.uk