Forbidden Funk Media is a gay porn dvd company dedicated to showcasing the beauty, strength and raw sexuality of men of colour in their leather, fetish and kink worlds. Forbidden Funk gay xxx dvds expose the sexual wants, needs, desires and passions of these men.

He's Gotta Have It - Gay DVD - Studio: Forbidden Funk - new release

You know that dude who can't go a day without sticking his dick in a tight hole, or getting his ass stuffed with a serious piece of meat. He's Gotta Have It is about that guy - the sex-crazed kat that will stop at nothing to get his urges satisfied!

Cast: Big Beef, Champ Robinson, Capri Quarius, Deep Dicc, Gant Black, Leo Donato, Marc Dupree, Trixxx
Mardi Raw - Gay DVD - Studio: Forbidden Funk - new release

The Black Breeders have terrorized New Orleans on several occasions, but there's nothing like taking the town over for Mardi Gras and making it Mardi Raw. Big Beef, Drae Dixsem and King Delight are invited to appear at local hotspots, but once they arrive most of the the action happens offstage. From backstage to back rooms to back home, they meet up with locals like Donte Oxun who can't enough of the Breed in them.
Badass Blak Bruisers - Gay DVD - Studio: Forbidden Funk

Badass Blak Bruisers pairs the hardest, longest, thickest and strongest dicks with the deepest, neediest, wettest and greediest holes around. Every ass ends up beaten and bruised, but none complained. These marathon fucks show just how much each bottom wanted the dick - and just how much the tops were willing to oblige!
Bareback Beatdown - Gay DVD - Studio: Forbidden Funk

It's a Bareback Beatdown with head vs hole! These youngbloods love to fuck... and fuck...and fuck! Once they get hard their dicks take over and they don't regain their senses until they spit a gallon of nut - and it doesn't make a difference whether it's one-on-one or in a group - they keep it as nasty as you need it. This is hardcore hood fuckin' at its best!
Beat It Raw! - Gay DVD - Studio: Forbidden Funk

Beat It Raw has a whole new crew for the sequel to the urban classic, Beat It Up! This time they are assigned to get the studio ready for a big move and when they don't get it done to Remy's satisfaction, all hell breaks loose. It's a big job so they brought in twice as many dudes than before, which means Remy ends up having to pay twice as much and if that ain't enough, when boss Tony Rock finds them fucking on the job, he takes it out of Remy's ass - literally and figuratively - by giving him his thick as fuck 13" log.
Blak! Bruthas Live And Kinky! - Gay DVD - Studio: Forbidden Funk

The action is nonstop in Blak! Bruthas Live And Kinky!. Once the shit kicks off it don't stop until the last brutha drains his nut. There's plenty of hardcore sucking, fucking, group action, ruff stuff, heavy assplay, and mega-inches of strong black dick. Dawg brings Broc home for a hard fuck session, and after getting his dick nice and wet Dawg slides Broc's huge cock up his ass for a serious ride.
Black Dat Ass Up! - Gay DVD - Studio: Forbidden Funk

When it cums to long and thick black dick serving thirsty pale ass, nobody does it like Raw Nasty Fuckers and Forbidden Funk. Here's seventy inches of dark pole pillaging every nasty whore they can find. These horny holes all know that for guaranteed anal satisfaction you gotta Black Dat Ass Up!

Cast: Jerry Stearns, Champ Robinson, Austin Dallas, Quawn, D-Rod, Ice, Draven Torres, K-9
Blak Hole - Gay DVD - Studio: Forbidden Funk

Blak Hole is an xxxploration of deep spaces, so expect dominating dicks and deep digging. Yeah, we all know that good sex can be soft and tender but sometimes you need it dark, deep and dirty. You wanna go to the depths - the pit, the cellar - wherever the action is happening. Blak Hole takes you to the deepest spaces, penetrating your senses and some tight assholes along the way.
Cum Cabins- Gay DVD - Studio: Forbidden Funk

Cum Cabins is a rough and raw epic about daddies, bears, boys and men as one with nature - fucking the natural way. From outside the cabins to the sauna to the woods - and everywhere in between - you can find these bruthas enjoying bareback backwoods butt pumping. When the men of Forbidden Funk Media take over the mountain resort in Cum Cabins, they give new meaning to the term man-country.
DA Notorious R.A.W- Gay DVD - Studio: Forbidden Funk

Da Notorious R.A.W. takes things back to basics and still brings it to the next level. This flick shows the guys from Forbidden Funk hitting the New York streets with some of the freakiest Bruthas in the biz and letting them do what comes naturally. From Marc Dupree getting both his holes hijacked by Ice and Woo, to Hotrod and Jordan Stone attacking each other with over a foot of pipe apiece in the most dick-filled flip flop on film! This movie ain't nothing nice.
Dicks Up Holes Down - Gay DVD - Studio: Forbidden Funk

Over the years Forbidden Funk has matched some of the horniest dicks with some seriously hungry holes, but it's nothing like breaking a bottom in for his first fuck on film. Dicks Up Holes Down features four video virgins getting popped, and a couple of tops breaking their sticks in alongside thick dickmasters Drae Dixsem and Gant Black! The new jacks weren't scared, and presented in true raw fucking style!
Dinge: Dirty Funky Raw - Gay DVD - Studio: Forbidden Funk

Forbidden Funk reaches in the porn vault and pulls out Dinge: Dirty Funky Raw, their first interracial release. Inspired by the look and feel of old school XXX, Dinge follows a day in the life of Lance Longwood, owner of Dinge Away, the handiest men in town. He gets his morning off right by feeding his huge inches of full-blooded black dick to both of his lover Ramey's holes for breakfast and ends the day giving Jay a warning fuck that would improve anyone's job performance.
Down In Da Dirty - Gay DVD - Studio: Forbidden Funk

Forbidden Funk works hard at finding the freshest faces - and dicks and ass - so you always have a new dude to nut to when you watch their flicks. Down In Da Dirty gives you real dudes - all amateurs who want to get on film. Mr Multitudes Media was dared to match some of this nasty ass bois with some of Forbidden Funk's funkified city slickers and let them all go for it. See how they get down and dirty!
Four Da Raw Way - Gay DVD - Studio: Forbidden Funk

Four Da Raw Way is the long awaited sequel to the smash hit Three Da Raw Way. Where the first flick was all about the escorts - this time it's playtime with porn playas! Nick is new to the game and waiting for his first shoot, so CJ, Woo and Shorty share some of their war (and love) stories. But by the end of the storytelling, they all get so worked up that story time turns into orgy time. Nearly three hours of hot thug fucking! Cast: CJ, Nick Omni, Shorty J, Tyko Logan, Vann Williams, Woo
Once You Go Black - Gay DVD - Studio: Forbidden Funk

If there's one thing we know it's a lot of white boys (and men) love to surrender their pink holes to big hard black dick, because they know that saying Once You Go Black you never go back! This collection shows brutha lovers come in all types, from the hairy jock daddy to the tatted street punk to the inked Latin trade.
The New Breed! - Gay DVD - Studio: Forbidden Funk

Don't let the title fool you - these kats may be new to bareback flicks but they ain't strangers to riding bare black dick or wearing out some new hole. They are The New Breed! And wehether it's a newcomer like ten incher Nick Omni, or the infamous Big Beef (who has one of the fattest dicks ever filmed), The New Breed is spilling over with fresh seed.
Toy Stories: Tales From Da Funkside 1 - Studio: Forbidden Funk

The Tales From Da Funkside series is a collection of exclusive, hardcore, never before seen footage from the Forbidden Funk Media vault. From auditions to parties to amateur home movies, Toy Stories: Tales From Da Funkside 1 keeps the action hard hitting. These boys love their toys, and so do their men! Dildos, pumps, anal beads, and even a baseball bat are just the start.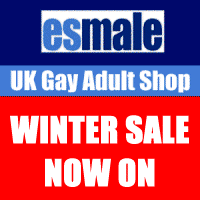 Esmale (UK Gay Adult Shop) sells a large range of gay adult sex toys including a range of fetish and restraint products, Cock and Ball play items, Whips, Paddles and Slappers, Blindfolds, Masks and Hood and are the UK stockist of Mr B leather and fetish products. They also sell a large range of men's designer underwear, condoms and lube, fleshjacks, jock straps and anal toys. Treat yourself!
Save an extra 10% on top of their already discounted prices with our exclusive code 'GAY10'. Click here to shop
See also: www.gayadultshops.co.uk