Young smooth hot French guys in these gay porn films from French Touch. These gay French lads crank up the heat with enthusiasm and excitement.

These titles no longer appear to be available
to buy on DVD or to download.

For similar gay themed titles featuring French men click here
For similar gay themed titles featuring French youth click here
Auditions Confidences - Gay DVD - Studio: French Lovers

Audition Confidences tells the tale of a young and naughty lad, a casual worker who always ended up having sex with the customers or co-workers. Deciding he can get paid for having sex, he goes to an audition for a porno. There, he tells the casting director all his experiences as a plumber, deliveryman and storekeeper.


Beach Fucking - Gay DVD - Studio: French Lovers

For all those that have holidayed on the French Atlantic coast you will remember the sand dunes - famous for cruising and fucking. In this pretty place, Beach Fucking takes place between couples and friends who revel in the delights of oral and anal sex. Be sure to pack enough sun block because this dvd is so hot you're likely to get burnt! Beach Fucking is also known as La Dune A Baise.
Coming Out, Coming In- Gay DVD - Studio: French Lovers

Coming Out Cumming In is all about young straight guys turning gay! All they need is to find the right guy to initiate them into the wonderful world of anal sex. A co-worker, a fortuitous meeting, an army comrade or childhood friend - these straight boys don't care. All they care about is how big it is and how good it will be. A new sex life is emerging! This dvd is also known as 18 Ans A Initier.

Fishing Or Fucking - Gay DVD - Studio: French Lovers

Fishing Or Fucking - what's your preference? While out walking one guy surprises a young lad while he is fishing and proposes they fuck rather than fish. Along this river you will find many surprises as, not far away, another couple fuck. The pleasure these fishermen experience is 100% real. This comes across in each individual scene, making Fishing or Fucking the catch of the day. This dvd is also known as La Peche Aux Minous.
From Dice To Dick - Gay DVD - Studio: French Lovers

From Dice To Dick is a game with a difference. The player that rolls two faces the same has to perform a sex act. What kind? Suck two other players' cocks for example and make them cum. Or, be fucked by two guys at the same time and maybe a 69. The rules of this game is sure to please the most hardened of gamblers as everyone cums out a winner.
Porn Idol - Gay DVD - Studio: French Lovers

The studio was looking for a new star, a Porn Idol for its next dvd - and seven young and pretty fellows were selected for the final test. The boys try to outdo each other in very hot solos and, with the announcement of the results imminent, the lads crank up the heat and with enthusiasm and excitement unleash themselves in an unforgettable gangbang.
Young Men Abused - Gay DVD - Studio: French Lovers

In Young Men Abused (Viols A La Teci) it's summer time in the ghetto and the young ruffians have nothing to do and no money to do it with. These enterprising young guys need to find a solution and come up with the idea of stealing innocent young men's wallets. Their aggression sometimes turns into rape as these delinquents abuse their victims and rob them without hesitation.
These titles no longer appear to be available to download
Freres Incestueux - Gay DVD - Studio: French Touch

Freres Incestueux (Incest Brothers) is a French boy-boy film with a strong story - and plenty of steamy sex! Suppose you had a handsome young boy lover. Suppose you allowed him to go off on a city visit with your brother. What if you found out that he'd been unfaithful while he was away? Would it make it worse if it was your own brother who'd fucked him? What revenge would you plan against your bro?
Garcons De Passage - Gay DVD - Studio: French Touch

Garcons De Passage (Boys Who Pass By) is a knockout French boy-boy shagfest! Two male couples take advantage of a perfect day to have fun on the beach. However, there is something special awaiting them back from the water's edge, in the steep dunes where hardly anyone ever goes. There, they meet two horny twinks, who invite the lads to spend the day in their company. In the beautiful sunshine, the boys give in to temptation!
Hotline - Gay DVD - Studio: French Touch

Hotline is a steamy French boy-boy dvd with a compelling storyline. Tom has a career, and much of his time is taken up with work. His lover, Miguel, is bored, and craves attention. He starts calling gay chatlines, and one thing leads to another. Meanwhile, what is Tom doing with the handsome hitch-hiker? And will Miguel have the courage to meet the two gay men chatters, face to face?
Jardiniers A Piner - Gay DVD - Studio: French Touch

Jardiniers A Piner (Gardeners At The Ready) is the story of two good-looking French lads who are willing to rake, hoe and prune - and maybe even a little more! They love it in the open air (in fact, they love it anywhere!) These two randy Frenchmen-behaving-badly will suck and shag clients, passers-by - whoever! Hardcore scenes of rimming, buggery and facial cumshots leave us in no doubt as to the preferences of our two landscape lovers!
La Foret A Baise - Gay DVD - Studio: French Touch

La Foret A Baise (Fuck Forest) is a cheeky French dvd, offering some steamy boy-on-boy action. While two jaunty French lads are having a fondle and a bit of nookie in the woods, without taking too much care to hide their activities, a randy little twink gets quite worked up, spying on them! The die is cast - and what follows is a full-on male shagfest in the forest!
La Maison Hot - Gay DVD - Studio: French Touch

La Maison Hot is a sexy French boy-on-boy dvd set in the glorious Dordogne region in southern France. In a delightful farmhouse, built in the local style, a gay couple play hosts to some rather uninhibited young men. The outcome, as you can imagine, is some pretty wild, liberated hardcore sex, against one of the most exquisite natural backdrops that Europe has to offer!
Le Livreur Du Manoir - Gay DVD - Studio: French Touch

Le Livreur Du Manoir (The Delivery Lad At The Manor House) is a cheeky French dvd, centring on the antics of a randy young white van man. Our hero shows up at the beautiful, sun-drenched manor house, basking in the exquisite French countryside.
Le Sexy Shop - Gay DVD - Studio: French Touch

Le Sexy Shop is an establishment which believes in customer care! The lads who work here will do anything to please the clientele - even down to going down, or parting their pert young buttocks! Watch these eager French twinks raising trading standards - and a few other things!
Les Pompiers Niques - Gay DVD - Studio: French Touch

Les Pompiers Niques (aka The Firemen Get Fucked) is a title which rather gives the game away! Still, this French dvd has plenty to offer that isn't spoiled by our knowing what's cumming! A young squatter is not prepared to leave the premises - but he's definitely prepared to get intimate with the fireman who's sent to evict him!
Petit Plan A3 - Gay DVD - Studio: French Touch

Petit Plan A3 has nothing to do with Surrey road maps. It's far more interesting than that! This French dvd is a guy-on-guy fuckfest, with an engaging storyline. A young couple of gay lovers make love as they awake in the morning. So far, nothing strange, you may think. However, by means of some clever plot twists, each of the guys ends up shagging the same work colleague!
Plaisirs En Eau Claire - Gay DVD - Studio: French Touch

Plaisirs En Eau Claire (Fun In Fresh Water) is the tale of what happens when some good-looking young French boys decide to spend an afternoon poolside. The spontaneity and genuineness of the sex acts (sucking, fondling, anal intercourse) which unfold are particularly impressive. This dvd gives the strong impression that the boys were really into one another, rather than merely acting!
Possessions - Gay DVD - Studio: French Touch

Possessions is a French production, based loosely (very loosely!) on Shakespeare's Love's Labours Lost. Some handsome young men decide that chastity is the way forward, and they go on holiday together, to get away from temptations of the flesh. But it doesn't quite work out as they'd hoped.
Profession Tapin (Bawdy Guys)- Gay DVD -Studio: French Touch

Profession Tapin (Profession - Rent Boy) is an interesting and very erotic French dvd, set in the Bordeaux area. Brice and his twink friends sell their lips and their arseholes on the street. They prefer soldiers as clients. Is it the freely available money? Or the uniforms? Or the hard young bodies?
Ready For Action - Gay DVD - Studio: French Touch

Ready For Action is the story of a troop of teenage boy scouts who organise an outing (forgive the pun!) They take off into the woods in pairs. These being randy lads, it's not very long before they forget all about the activity which brought them into the wilderness, and start dreaming up games of their own! And believe us - they don't lack imagination!
Sex In The Bedroom - Gay DVD - Studio: French Touch

Okay, so Sex In The Bedroom may not be the most poetic of gay porn dvd titles - but the concept is in fact pretty neat! The production staff of this French movie asked the actors to bring their friends (in other words, lads who are complete newbies in front of the camera) in order to evaluate their sexual capabilities. Filmed in a documentary style, Sex In The Bedroom is an original, interesting and very exciting movie.
Sun, Sea, Bitch - Gay DVD - Studio: French Touch

Three lads decide to spend their afternoon on the beach in Sea, Sex And Bitch. However, things get more heated up than they had foreseen! The sun, the shimmering water and the gorgeous, bronzed twink bodies all around them start their juices flowing. Soon, they are licking, sucking and fucking on the hot sand, or in the undergrowth - they don't care where.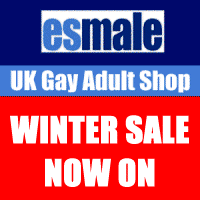 Esmale (UK Gay Adult Shop) sells a large range of gay adult sex toys including a range of fetish and restraint products, Cock and Ball play items, Whips, Paddles and Slappers, Blindfolds, Masks and Hood and are the UK stockist of Mr B leather and fetish products. They also sell a large range of men's designer underwear, condoms and lube, fleshjacks, jock straps and anal toys. Treat yourself!
Save an extra 10% on top of their already discounted prices with our exclusive code 'GAY10'. Click here to shop
See also: www.gayadultshops.co.uk