18 West Studios produced excellent gay twink porn dvd content for several years, featuring popular twink models such as Sammy Case, Elijah Evans, Skyler Devoss, Landon Cole, Cayden Alexander, and Kelly Taylor.

4 On The Floor - Gay DVD - Studio: 18 West Studios
4 On The Floor brings you sizzling teen boy action from Allboy Magazine (and Boyfunk) featured models Jordan, Kelly, Shane, Bobby, and Jordan, plus Boyfunk exclusives Trent, Alex, and Caleb, and hottie Kyle R. Real-life Abercrombie worker (and high school senior) Caleb is featured in a hot solo jerkoff in which Elijah (off camera) guides Caleb in stroking his boycock to a creamy conclusion.
Boys Du Jour - Gay DVD - Studio: 18 West Studios

Boys Du Jour brings you five brand-new hotties - all just 18 or 19 years old and brand new to adult. On offer is a cum-o-licious coupling from Jake Morgan and Nicholas Hines, a hot solo scene from Allboy cover model Jesse McCarthy and a hot threeway with Zach, Lance Millian and Dean Summers.
Boys Feet Club - Gay DVD - Studio: 18 West Studios

This foot fetish video features five hot scenes with eight of our hottest models in fun toe-licking, tickling and foot-washing action!
Starring: Jesse McCarthy, Elijah Evans, Adam Zakuto, Kelly Taylor, Michael Crosby, Sean O'Connor, Brad Flynn, Dean Summers
Cocked And Ready- Gay DVD - Studio: 18 West Studios

In this nut-busting title with fourteen hot twinks, you'll enjoy hot fourway action as Aaron mounts Nicholas' incredible nine-inch tool, while Jake and Zach go at it fast and furious - and then they switch off for more action! Then, a glass of wine by the fireplace leads Jayden and Jake into some hot action. Next, watch what happens as a game of twister goes awry among the five boys and their camp counsellor at a camp lodge.
Cumdominium - Gay DVD - Studio: 18 West Studios
Cumdominium has Stormy and Jordan, two of the hottest performers you're gonna find in twink porn. Stormy, with his long, brown locks and skullcap, looks like a high school senior plucked from the local mall...
Eight Is Enough - Gay DVD - Studio: 18 West Studios

Join fourteen of the hottest twinks in this sizzling hardcore dvd - Eight Is Enough! The action starts with Jake Morgan and Nicholas Hines hot and heavy in the shower, then moves to the bedroom where Nicholas fucks Jake's tight eighteen year old ass with his hug nine inch cock.....
Elijah's Wood- Gay DVD - Studio: 18 West Studios
From the looks of things, fun was had by all parties involved with the making of ELIJAH'S WOOD. And why shouldn't they have had fun? The boys are young, lean, and delicious, and they are inventive in their play.
Hot 'N' Bothered - VOD - Studio: 18 West Studios

Join seven hot 18-20 guys in Hot N' Bothered as their teen hormones take over! Boyfunk heartthrob Jesse is in a voyeuristic outdoor solo. Newcomer Christopher films himself in his own bathroom. Cute teen Sean works a gigantic dildo up his virgin ass.
Kelly Taylor The Dvd - Gay DVD - Studio: 18 West Studios

From the first scenes 18 West released of him in early 2004, Kelly Taylor has been one of their most popular models. With one of his titles nominated for a GayVN award, other industry awards and nominations, and being featured in many major industry magazines and news articles, Kelly has established a name for himself among the top echelon of twink models for his striking looks, his skillful use of his 8'' uncut cock, and his sparkling personality.

Outta Bounds - Gay DVD - Studio: 18 West Studios
This little corner of Twinkie boy heaven opens, with an ever so cute Kyle having a teen man boy wankies in the woods, lying down under a tree mostly. Kyle has short dark brown hair, a sexy soft featured face, a slim body with milky white skin, he is every bit a true teen man boy. Once Kyle gets his kit off there is no stopping his wanking session.
Ready Or Not Orgy - Gay DVD - Studio: 18 West Studios

A sizzling orgy with the hottest 18-20 year old twinks you'll find anywhere highlights Ready Or Not Orgy, a new release from 18 West Studios! See eleven of the hottest teen twinks fuck and shoot their loads in group orgy action, with twoway and threeway fucking, plus a sexy outdoor public solo! Ready Or Not Orgy is hot enough to raise your blood pressure and will entertain you for hours!

Ready, Steady, Blow - Gay DVD - Studio: 18 West Studios
Join Cute Boy supermodel Kelly Taylor, Adonis Pictures sensation Andy Kirra, Boyfunk heartthrob Adam Zakula, and five hot newcomers in searing twoway, threeway, and solo scenes. Ready, Set, Blow contains all new action, including a hot twoway between Kelly Taylor and Andy Kirra, a hot threeway, and two intense solos.
Schools Out #1 - Gay DVD - Studio: 18 West Studios

Eight barely 18 models on one DVD! Three hot 2-way scenes and two in-depth interview and solo performances, including first-time top and bottom boys!
Starring: Miles Cameron, Casper Palmer, Kyle Towers, Justin Gallagher, Tyler Thomas, Sean O'Connor, Jordan James, Damien Stiller
Schools Out #2 - Gay DVD - Studio: 18 West Studios

You'll see cute college freshman Jake seduced by upper class man Avari, a hot sex romp in which Josh bottoms for the first time with Brady's 8" tool, and revealing interviews and solo scenes with Caleb and Trent!
Starring: Caleb Andrews, Jake Bailey, Brady Phillips, Josh York, Trent Scott, Ray Keller, Avari Armstrong
Schools Out #3 - Gay DVD - Studio: 18 West Studios

Join these hot, barely 18 boys for a sizzling display of gorgeous teenboy sexuality! These are almost all first-time experiences on camera, and sometimes even a boy's first-ever time with another boy!
Skinny Dipped - Gay DVD - Studio: 18 West Studios

Get ready for the hottest, wettest, and stickiest pool party yet! Skinny Dipped is filled with the scorching hot hung boys 18 West Studios is famous for! Watch as Jake and Aiden's romantic evening turns into a hot wet bathtub fuck. Don't let this young shy smooth blonde boy fool you - he's packing a thick 8'' cock, and he loves to pound Aiden's tight ass.
Skyler's Sex Adventures - Gay DVD - Studio: 18 West Studios

Skyler DeVoss is one of the most popular porn stars among twink fans. Skyler debuted in his first porn shortly after his 18th birthday in 2005. Skyler's Sex Adventures brings you hot new and classic scenes of Skyler with friends, fuck buddies, and his real-life boyfriend, Brooke Daniels. Skyler's boyfriend, Brooke, calls in sick so that he can stay home with Skyler and have sex all day. (Compilation DVD)
Tastes Like Twinks - Gay DVD - Studio: 18 West Studios
Totally cute, unsullied, uninhibited, amateur teens - you won't find fresher boys without doing some serious time in prison.
Three Dollar Hookup - Gay DVD - Studio: 18 West Studios
You'll feel the heat as these boys get down and dirty! Elijah and Jesse head back to the video arcade for some hot 2 way glory hole action... and soon Jesse is thrusting into Elijah's waiting hole.
Turn 'Em Out - Gay DVD - Studio: 18 West Studios

KC opens with a short interview followed by a hot solo scene with his 8" tool complete with a Prince Albert. Then, your temperature will soar as Jake takes all of Nicholas' 8" tool in a hot shower scene. Next, join uberhottie Army boy Tommy Carter as he strips and strokes it right out in the open net an Amtrak line, following a hot scene by Navy boy JJ Ross. The video close with Lance pounding Dean's willing fuckhole in the most intense "massage" ever received!
Twinks 'N Time - Gay DVD - Studio: 18 West Studios

Watch Zach Peter's gigantic tool give an intense pounding to Lance Millan's waiting hole in Twinks 'N Time. Soon both these cuties are shooting hot spearmy loads. Hotties Gavin and Brady deliver creamy cumshots after intense solo scenes. A lively fiveway ticklefest is next which leads to some superb bottom banging.

Twink Tails - Gay DVD - Studio: 18 West Studios

Twink Tails raises the bar again with six of the hottest new boys you've ever laid eyes on! Watch them top, bottom, fuck, and suck in this scorching dvd packed with solo, two and threeway action. Huge rock hard dicks, hot oral and anal action, and intense ass pounding make this one not to miss.
Twink Temptations - Gay DVD - Studio: 18 West Studios

Watch nine of the hottest 18-20 year old US twinks in searing solo, two-way, and three-way action in Twink Temptations. You'll see straight boy Christopher get seduced by Brook and Skyler. There is a steamy intense solo by hottie Christian the hottie, and lots of other no holds barred hardcore action between cute boys.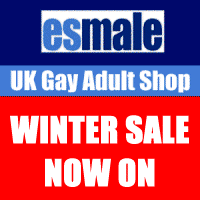 Esmale (UK Gay Adult Shop) sells a large range of gay adult sex toys including a range of fetish and restraint products, Cock and Ball play items, Whips, Paddles and Slappers, Blindfolds, Masks and Hood and are the UK stockist of Mr B leather and fetish products. They also sell a large range of men's designer underwear, condoms and lube, fleshjacks, jock straps and anal toys. Treat yourself!
Save an extra 10% on top of their already discounted prices with our exclusive code 'GAY10'. Click here to shop
See also: www.gayadultshops.co.uk