CyberBears is the hottest gay bear porn dvd studio out there. Big hairy bears and daddies in great hardcore gay xxx action. Woof!

Backyard Bears - Gay DVD - Studio: CyberBears

Welcome to Backyard Bears, in which four furry sexy CyberBears men get it on indoors and out. First Buster and Ali go from making out under a lemon tree to serious pounding in the living room. Then Drew and Huchi pick up the action, and take it out to the pool for a climax that's worth the wait.

Bear Alley - Gay DVD - Studio: CyberBears

It's late and Bear Alley is almost deserted. Great time to pick up a guy for a little action out by the trash bins. Hot bear/cub couple KJ Bear and Goatee Dude catch stud Eric Bear hanging out under the streetlights. The three men find a secluded spot and go at it every way possible.


Bear Bondage 1 - Gay DVD - Studio: CyberBears

Watch two of Cyberbears' most skillful leather master bears give it to a pair of eager, willing bondage bottoms. JYD's back in command of the floggers, and his creative use of leathergear gets the ever-popular Bad Dog as hard as they come. Then JB takes newcomer TygrrBoy, gets him on his back, wrists and ankles bound, and pushes him right to the edge - and over!
Bear Booty Call 2 - Gay DVD - Studio: CyberBears

Dean Ferguson's in town in Bear Booty Call 2, calling his horny buddy Cowtown Bear over to the hotel. Even better, hung muscle daddy Cowbear UK comes along for the ride in this oral threeway that never slows down. Next, top bear Fuzzy Cub calls up hot hairy muscle bottom Anthony Mengetti for some heavy ass-pounding action.
Bear Booty Call 3 - Gay DVD - Studio: CyberBears

Whether you're at home or on the road, it's always a good time for a Bear Booty Call. Fly Bear just got into town, and he's ready for some fun. He calls Matte Masterson and Tucker Cody over, and after a shower, they all go at it. Then Chgo Beard welcomes Erik with a kiss.


Bear Fever - Gay DVD - Studio: CyberBears

Something hot is going on in Bear Fever! Chase gets distracted by his hot furry lover bear Xenos's butt cleavage and their ordinary evening plans get consumed in the fire of their passion. Tall dark handsome Ali warms up horny blonde Brian, before sending his temperature higher than either of them imagined.
Bear-Curious - Gay DVD - Studio: CyberBears

You've heard about them. You've thought about them. Admit it. You're Bear-Curious. Join ultra-hairy Bear Boxx as he explores his bear lusts, topping both big hairy Leather Bear and his little Leather Cub. Then Gabe Harris and Chgo Beard get together to try out some of their hairy man fantasies, and they both have a lip-smacking good time.

Bear Party 1 (2 DVD Set) - Studio: CyberBears

Got your ticket? Then turn in those clothes and grab a towel for the wildest bear party ever - CyberBear's Bear Party 1. Watch the hottest CyberBears models go at it in every combination, directed by Ken Slater. It all happens in the private back room of a live bear party in San Francisco.
Bear Party 3 - Gay DVD - Studio: CyberBears

In Bear Party 3, come with horse-hung bear pig Gus on a wild ride from top to bottom through the San Francisco Bay Area Bear Party scene! Watch the action grow on the dungeon workbenches, as Limo Bear and LVS Big Bears get it on. Soon there are three, four, and then five men together when Grizzly Cub, Xenos, and Gus join in.

Bear Party 4 - Gay DVD - Studio: CyberBears

What do you get when you cross a workout with an orgy? Throw in a little fur, and it's Ken Slater's Bear Party 4. Join seven hot, horny, hunky bears as they explore every position imaginable in a gym full of weight machines. With Ali and Alouzo Masters topping, Jake and John Kings bottoming, and everyone switching off with Rock Taylor, Tony Farrace, and Chet, it's a sweaty party with endless possibilities.
Bear Paws - Gay DVD - Studio: CyberBears

Strict master JJ Bad Pig gets his wiling servant Eduardo on his knees and takes complete control of his bottom bear in Bear Paws. Then it's up to the sling for deep penetrating convict-fucking. American Bad Bear's giving everything he's got to Evil D - ouch, what a pounding! Finally threesome Chet, Supercub and Jake handily show all the ways to use and abuse your fellow bear in a sling.
Bears & Cubs - Gay DVD - Studio: CyberBears

When is a man a cub and when is he a bear? See if you can figure it out in Bears & Cubs. First big top Daddy Beare comes across furry Daddy Cub Eric caged in the depths of a leather and steel dungeon. There's no negotiation - these men both know what they want, and get right to it.


Bears @ Work - Gay DVD - Studio: CyberBears

Like your bears hot and sweaty from a hard day's work? Now you can watch these manly warehouse workers, truckers and moving men get their share of the action - these are Bears @ Work!


Daddy Knows Best - Gay DVD - Studio: CyberBears

Watch big-dicked daddy Lance Bearington show handsome bearded bear Ourson Swels just how to take it like a man in Daddy Knows Best. No back-chat - daddy gets what he wants! Jyd ties up his boy Bad Dog and makes him watch as he serves up a healthy load onto Jay Kelly's leather harness while Bad Dog jacks off.

Dore Alley Bears - Gay DVD - Studio: CyberBears

Dore Alley Bears is a promising title from CyberBears Presents, and will appeal to those who like chubs - bigger guys who are heavy in weight. Although it basically revolves around a San Francisco street event - a mini Folsom Street Festival - all of the action takes place indoors. To get the party started, the film opens with boyfriends Chad and Tank getting hot and frisky at home.
Feed The Bears - Gay DVD - Studio: CyberBears

Feed your hunger for hot, messy bear sex in Feed The Bears. First Eric Bear and Gus take turns munching on a cream pie, before taking each other in every way possible. For the next course, Ali feeds Joe Falconi an apple, then turns him over and tops him with passion. But the fruit course isn't over yet. After feeding each other, Behr Ryder tops Fuzzy Bear.
Here Comes Daddy - Gay DVD - Studio: CyberBears

When daddy CowBear UK and his daddy-boy Ken meet up with big Steve in Here Comes Daddy, it's a top-down fur and belly sandwich with all the trimmings. Then hot and spicy daddies Limo Bear and Eduardo Angeloso savour the full treatment from well-equipped (and always enthusiastic) chaser Gus. Finally, super-hung daddies BluMaxx and Rex Murphy bring it all together in a tasty exchange of manpower and sensuality.
Illusion - Gay DVD - Studio: CyberBears

In an instant, Illusion can turn into hot rugged reality. It could be a fantasy about some hot jock across the street. You're at a stop sign. Instead of walking by, he comes over, leans over the hood of the car. Or maybe you're watching your favourite star on video. Suddenly, there he is in the flesh. It's all up to you. It could be the hairy cub in the magazine, who gets you hard, horny, and ready to play when your lover comes home.
Illusion 3 - Gay DVD - Studio: CyberBears

In Illusion 3, Carlos starts his new job editing pictures - but the uncut Latin stud quickly loses himself in a fantasy about the first model on his screen, Jake. The scene growls and shakes its way through face fucking, hard slaps and dirty talk. After Carlos fucks Jake, the two deliver a pair of very messy cumshots.

Lazy Bears - Gay DVD - Studio: CyberBears

What's a lazy bear got to do to get a little rest? Wild bears, in twos and threes, suck, rim, and fuck to their hearts' content. The bears themselves come in all shapes, sizes, and ages, but Xenos takes the prize for the girthiest (and possibly the hairiest) man in this production. He opens Lazy Bear with an extended scene with Gus who takes obvious pleasure in burying his face in Xenos' ample, furry butt.

Tag Team - Gay DVD - Studio: CyberBears

Let's get ready to cum because tag team bears Ali and Kevin Cub are prepared to take on all cummers in Tag Team, an action-packed feature. Dressed in their wrestling gear, they invite guys up to their hotel room to test their strength and sexual endurance - winner takes all.


Workshop Bears - Gay DVD - Studio: CyberBears

Caution! Men At Work - well sort of. Workshop manager Max Behr is too busy sawing away to hear the doorbell ring as JYD takes Max Behr by surprise on the job, interrupting him for some man-on-man action. Behr bottoms for JYD who plows him for a good while over a sawhorse. In the next sequence, Rick Wrangler slaps Jeff Jarrett's big, beefy ass while he's up on a ladder.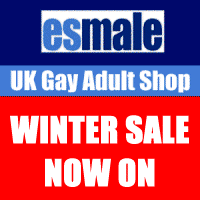 Esmale (UK Gay Adult Shop) sells a large range of gay adult sex toys including a range of fetish and restraint products, Cock and Ball play items, Whips, Paddles and Slappers, Blindfolds, Masks and Hood and are the UK stockist of Mr B leather and fetish products. They also sell a large range of men's designer underwear, condoms and lube, fleshjacks, jock straps and anal toys. Treat yourself!
Save an extra 10% on top of their already discounted prices with our exclusive code 'GAY10'. Click here to shop
See also: www.gayadultshops.co.uk