Triumvirate Productions released a highly rated selection of gay twink porn dvds in the early 2000s with a cross section of fresh-faced, attractive and youthful gay lads, all of whom were seething with unbridled sexual energy.

Bareback Bowling Bonanza 1 - Gay DVD - Studio: Triumvirate
Patrick Maxwell and Peter Kyek are wealthy, Geoffrey King is poor. They come from different sides of the tracks - but all three have a passion for bowling and also for cock! Join these three Triumvirate group exclusives along with many favourites and many new-cummers as they strike paydirt with their mighty cocks and bowling balls in Bareback Bowling Bonanza 1.
Bareback Bowling Bonanza 2 - Gay DVD - Studio: Triumvirate
The Bowling Boys are back in Bareback Bowling Bonanza 2, and this time the bowling title is on the line. It's Rich Kids versus Poor Boy! Geoffrey King matches his bowling skills and enormous cock against Patrik Maxwell and Peter Kyck. George Plozen and Mark Zebro face off to see who has the biggest cock in the Triumvirate stable, and Milan Breeze has his way with the humpy repair technician.
Before They Were Stars 1 - Gay DVD - Studio: Triumvirate
Before They Were Stars 1 contains a group of casting sessions carried out in Prague by Triumvirate studios. The guys tell us about themselves and then jerk off for the camera, sometimes in duos and sometimes as solos. The guys are very cute and these first time in front of camera sessions are touching for their shyness and the real feel of the action.
Can't Hide That Feeling 1 - Gay DVD - Studio: Triumvirate
12 fit as fuck Eastern European young studs, swallow cum, suck uncut cock and even do some bareback fucking, what more could a gay guy ask for. A sensational horny experience!

Cast: Ray Renfro, Jon March, Bad Surik, Gil Kovash, Arnis Putanis, Chet Meyers, Leev Lale, Dujan Sin, Bruce Money, Vilnis Powers, Jude Lowe, Ken Fine
Can't Hide That Feeling Part 2 - Gay DVD - Studio: Triumvirate

Packed full of spunk and bareback moments, with both smooth young studs and Twinkies all Eastern European, not forgetting some sexy bubble butts!

Cast: Ray Renfro, Andrew Connell, Andrew Quiet, Dinar Right, Danko Mar, Janosh Cherep, Jeff Left, Bobby Joe Brown, Jude Lowe, Bad Surik, Jon March, Leev Lale, Chet Meyers, Janny Rashow, Bruce Money, Vilnis Powers, Ray Renfro
Catalog Shooters - VOD - Studio: Triumvirate
Ignore the crap cover - this is superb. Deep arse fucking, loads of sleazy facials, cum eating, felching and over 20 cum shots. 14 gorgeous, well hung late teens and early twenties in wall-to-wall sex. Brilliant close-up photography.
Cupids - Gay DVD - Studio: Triumvirate

Whatever we're charging you for this it isn't enough. Stunning young boys in an absolute slut fest of fresh teen flesh.

Cast: Ray Renfro, George Steel, Marcellini, Anebi, Jude Lowe, Leev Lale, Alex Semy, Martin Star, Paulo Filippi, Sonny Silver, Samuel Dolce, Bruno Image, Steeve Sanders, Robert Driveman, Lucky Smile
Ditch The Bitch and Make The Switch - Studio: Triumvirate
Ditch The Bitch And Make The Switch explores the stories of five young guys each seeking a new direction for their love lives after having problems with their girlfriends. Each guy visits the friendly and hunky barman, Ashley Adams, who listens sympathetically to their problems and hooks each one up with just the right person to satisfy their deep sexual cravings.
Hey Dude.. Wanna Fuck? - Studio: Triumvirate
Hey Dude - Wanna Fuck? Wouldn't it be great if boys who like boys could simply walk up to a gorgeous hunk, and ask that question? Hook-ups happen between guys all over the world every day. Often, they have to be secretive - or at least discreet. What if you could cum right out with it? Check out this great bareback movie, a true first, in which all twelve models fuck and get fucked!
Hungry For Love - Gay DVD - Studio: Triumvirate
The credits for Hungry for Love tell us that director Rolf Hammerschmidt had some help from the Bel Ami casting department. But all one has to do is take one look at his gorgeous, smooth cast to know that.
I Saw It In Your Eyes - Gay DVD - Studio: Triumvirate

2 Disc Special! An extravagant period drama full of spunky young Russian lads enjoying horny boy action.

Cast: Ray Renfro, Gerry O'Connel, Alexander Steel, Skip Baxter, Dinar Right, Tom Novy, Miky Sem, Martin Eaten, Tommy Gent, Leev Lale, Stenley Underberger
Postcards From Riga - Gay DVD - Studio: Triumvirate

13 very hot Latvian & Russian young studs in condom free fucking &post orgasm sperm gobbling. The guys are very cute & the action is great.

Bareback orgy, sexy jerk off sessions, hot threeway, duos, & some of the cutest young studs around. A great movie!
Soccer Camp 1 - Gay DVD - Studio: Triumvirate
2 hours of hot guys, great sex and lots of football kit action. Sex in the lockeroom, in the goal, on the pitch, with the super cute referee, a hot three way, a dormitory orgy,some cum eating and some barebacking. Do I need to go on?
Soccer Camp 2 - Gay DVD - Studio: Triumvirate
I am tempted to say that this is better than the first one but to be honest both of these Triumvirate movies are great. Buy it for the cute twink being gang banged if nothing else.
The River Through Time - Gay DVD - Studio: Triumvirate
8 hot 'n' horny young guys get more than they bargained for on a camping trip like no other! Fabulous sex and a great orgy sequence make this a must see for lovers of young smooth Eastern European boys.

Cast: Alexander Steel, Gerry O'Connel, Samuel Dolce, Kenny White, Skip Baxter, Miky Sem, Ronald Born, George Plozen

The Scent of Youth - Gay DVD - Studio: Triumvirate
Total lust and passion with sexy Eastern European men, they gorge on cock and fuck like rabbits. A totally horny and sweaty lustful tale of seduction and horny youthful sexuality!
Voyeur Cam - Gay DVD - Studio: Triumvirate
A great cast of 19-22 year old buffed young studs with some very big cocks in action. 5 hot scenes with facial and oral cumshots. Four way in the shower, duo in the toilets, hot three way in the changing room. This film is excellent. I really enjoyed it.
Voyeur #2 - Gay DVD - Studio: Triumvirate
OK boys this one is absolutely fanfuckingtastic- the most beautiful, smooth young boys and the hottest bareback sex - the first was a best seller, this will be too.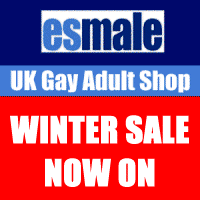 Esmale (UK Gay Adult Shop) sells a large range of gay adult sex toys including a range of fetish and restraint products, Cock and Ball play items, Whips, Paddles and Slappers, Blindfolds, Masks and Hood and are the UK stockist of Mr B leather and fetish products. They also sell a large range of men's designer underwear, condoms and lube, fleshjacks, jock straps and anal toys. Treat yourself!
Save an extra 10% on top of their already discounted prices with our exclusive code 'GAY10'. Click here to shop
See also: www.gayadultshops.co.uk