UK Hot Jocks gay dvds are something fresh, bold and new in UK gay porn. Muscular, defined, ripped, buff and fit hardcore jocks with rock hard cocks.

Fuck Off - Gay DVD - Studio: UK Hot Jocks

This is not a fight, this is a FUCK-OFF! Show off, Impress us and out fuck your partner. Extra points are given for technique, stamina and performance. The competition is weighed up, examined and paired accordingly, opposing skills and specialist talents pitted against each other. Eight guys, four hot outrageous fucks, each more extravagant than the last. Hole soaking rim-jobs, aggressive sucking, Xtra-hard positions!
Boss I & II - Gay DVD - Studio: UK Hot Jocks

As their first big movie, the hot and gritty Boss 1 took UK Hot Jocks to the next level, and the sequel, Boss 2 did not disappoint either. Now, you can own both sordid tales of sexual aggression and power in this two dvd set Boss 1 + 2. JP Dubois is the boss who rules with an iron cock, so to speak, as he leads by example through raunchy sexual encounters.
Buzz Cocks - Gay DVD - Studio: UK Hot Jocks

Pumped up, ripped bodies, hard cocks and insatiable sexual appetites in Buzz Cocks. These lads might not all be gay but they enjoy a raw hot asshole wrapped around their fat dicks. Full of testosterone and sweaty from their workouts, they use their gym buddy's mouth and hole to release their pent up tension!
Chizzeled - Gay DVD - Studio: UK Hot Jocks

Smoothed down, edges rounded and buffed up. The clean cut guys from the Chizzeled workshop are well trained, highly skilled and crazily over sexed! It's a small crew and the workshop is often empty, the smell of fresh cut wood lingers in the air, soft sawdust underfoot and dealing with solid materials all day does something to the very hard workers making them insatiable.
Grappld - Gay DVD - Studio: UK Hot Jocks

Wrestle HARD. 2 dry regular wrestles and 2 wet wrestles. Getting the pool out we start with a good old-fashioned lube wrestle, you'll have fun watching the guys slip and slide over one another. Slightly more unconventional is our blue and red gunge wrestle which very quickly turns into purple! The guys end up absolutely covered! The dry wrestles are not so dry after all, sweat and oil make it just that little bit more difficult to grab and throw, more fun for viewing!
Hard Gear Tied & Bound - Gay DVD - Studio: UK Hot Jocks

UK Hot Jocks tries out something new in Hard Gear. Whether you're into sporty jock gear, football shorts, and protective pads or the sleazier side of rubber wear, slick back latex like a second skin, UK Hot Jocks have mixed it up for a hell of a wet, filthy and dirty ride. These guys really go for it - kinked up to the max with double penetrations, giant toys and watersports galore.
Hard Gear - Gay DVD - Studio: UK Hot Jocks

UKHotJocks is trying out something new. Much like when you try a hot new pair of underwear, or a new cock ring for the first time… it gets you hard and horny right away! Stripping back to the fuck and fetish gear, the hot new studio set and most importantly focusing on the guys. Whether you're into sporty jock gear, football shorts and protective pads or the sleazier side of rubber wear, slick black latex like a second skin, we've mixed it up for a hell of a wet, filthy and dirty ride!
Lured - Gay DVD - Studio: UK Hot Jocks

They don't cruise. They are Lured. When an abandoned mill sends out ambiguous messages telling boys to come to the mill because it's a sexual playground, they can't resist. They don't know why, or who. All they know is where and now. Is thhe person calling these boys a peeping Tom getting off on the thrill of voyeurism, or has the mill somehow become self-aware and is feeding off the sexual energy of the young jocks?
Lured 2 - Gay DVD - Studio: UK Hot Jocks

They don't cruise, they are lured… again! The crumbling abandoned mill still stands strong and tempts sex hungry jocks into it's walls, dark crevices and hidden open spaces. The mystery remains, is there an individual doing the tempting and watching or are the decrepit remains of an industrial time gone by somehow self-aware? We may never know but we do know that the boys keep coming and cumming!
OriFFICE Junior - Gay DVD - Studio: UK Hot Jocks

Tension builds in this all male office block. Something in the sleek lines, dusty original brickwork and tight trousers that is pushing these men to the edge of distraction. At the centre focus of many very un-corporate sexy acts is the office junior, a cute new foreign intern who's turning heads, pressing crotches to desks and stirring the loins of these hot blooded men. They can't resist his alluring full lips and tight buns. Innocent he may look but he's the most insatiable of them all.
Sex On Cars - Gay DVD - Studio: UK Hot Jocks

Big boy toys in Sex On Cars. Theres nothing like the freedom of having your own motor - you can go where you want, when you want, and take who you want with you. Whether that's down to the shops - or out for a sneaky fuck! They can also be a huge attraction to potential sex partners - a hot set of wheels can certainly get you laid. Sex On Cars does what is says on the bonnet.The guys like their conquests risky, outdoors and over a warm ticking engine!
Toy Stories - Gay DVD - Studio: UK Hot Jocks

Sex toys are often brought into relationships to spice things up. Sometimes they're an obsession and are constantly being replaced with newer, more exciting and bigger models. Whatever the reason, we can't deny that they certainly make things interesting. JP Dubois and Sam Barclay talk us through these Toy Stories…Some are fantasies of theirs and some are real experiences they've had, recreated for the cameras by the hottest jock boys out there.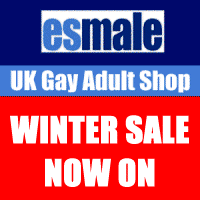 Esmale (UK Gay Adult Shop) sells a large range of gay adult sex toys including a range of fetish and restraint products, Cock and Ball play items, Whips, Paddles and Slappers, Blindfolds, Masks and Hood and are the UK stockist of Mr B leather and fetish products. They also sell a large range of men's designer underwear, condoms and lube, fleshjacks, jock straps and anal toys. Treat yourself!
Save an extra 10% on top of their already discounted prices with our exclusive code 'GAY10'. Click here to shop
See also: www.gayadultshops.co.uk