Filthy Raw Fuckers is your gay porn dvd home for cum eating, breeding, and cream pies from dirty British guys. Bareback and full to the brim with spunk!

Bare Bangers - Gay DVD - Studio: Filthy Raw Fuckers

These lads ain't called Bare Bangers for nothing! They only fuck one way - raw and filthy! No romance here, these guys want one of two things - either a raw hole to pump their load into or a fat juicy dick to ride the jizz out of. If they don't cum all over your face and make you lick up every drop, they will spunk deep inside you and make you push it back out for them to see!

Bareback Barracks - Gay DVD - Studio: Filthy Raw Fuckers

Stand to attention and take it like a man - welcome to Bareback Barracks, where anything and everything goes! These brave men may serve their country, but they also service each other. Away from their wives and girlfriends they seek comfort in their comrades' mouths and raw asses. Sergeants take advantage of their second in command and all the soldiers have a go on the new recruits! They may not always shoot to kill, but they always shoot - and shoot deep!
Backback Buddies - Gay DVD - Studio: Filthy Raw Fuckers

They work together, they play football together and they drink together; but these buddies have never fucked before! Watch as these fit lads take their friendships to the next level – raw juicy anal penetration, deep rim jobs, messy facials and dripping creampies!
Bareback Footballers - Gay DVD - Studio: Filthy Raw Fuckers

It's time to practice your ball skills and these Bareback Footballers will do it anytime and anyplace - fucking and sucking in just their footie socks. Nothing but balls, balls, balls and lots of cock right here!
Bareback Masters - Gay DVD - Studio: Filthy Raw Fuckers

These hung tops like their bottoms tied up, submissive, loose and raw! Spanked and abused – these bottoms don't have any energy left to fight off the huge bare dicks stretching open their tight boy holes! Dressed head to toe in kinky leather, these subs take it as hard as their masters give it – all they ask in return is a mouthful of hot fresh spunk!
Bareback Monster Cocks - Gay DVD - Studio: Filthy Raw Fuckers

Collossal cocks, bareback fucking and horny holes await you in Bareback Monster Cocks. Thick and long, these dicks truly are monstrous! Watch as eager arses are stretched further than ever before as they are stuffed full of juicy raw cock, then drenched in fresh hot spunk!
Bareback Workout - Gay DVD - Studio: Filthy Raw Fuckers

The guys in Bareback Workout are all pumping iron and pumped full of cum! Buddies watch each other working out before their sexual tension can take it no longer and they end up barebacking.Big releases result!
Chill-Out Parties - Gay DVD - Studio: Filthy Raw Fuckers

Straight men bareback group fucking! When these horny men get together it's not to watch sports or talk about their wives; they get drunk, high and fuck each other raw, deep and hard!

Holes are opened and fucked, cocks are worshipped and sucked and every bottom takes a hot fresh load!
Creampie My Hole (3 DVD set) - Studio: Filthy Raw Fuckers

Creampie My Hole! Cum inside and make me squeeze it back out! 3 Discs and 14 scenes of hardcore bareback internal cum shots being pushed back out for the tops to fuck back in! Full of horny men who love the feel of a hard raw cock in their holes and fresh hot spunk being pumped balls deep inside of them. Watch as horny eager bottoms take load after load!
Cum Dumps- Gay DVD - Studio: Filthy Raw Fuckers

Cum Dumps - that's all these boys need! These filthy cum pigs will do anything for a load.

They don't care who you are or what you do to them - they just need you to empty your balls deep inside!


Cum Feeders - Studio: Filthy Raw Fuckers

Bareback my hole and feed me your load! You can use and abuse these bottom boys anyway you like. Face fuck them, spank them, abuse their raw holes, but make sure you dump your fresh hot spunk directly in their open willing mouths. They always swallow, savouring every last drop; even kiss and share the cum.
Cum Sloppy Bitches- Gay DVD - Studio: Filthy Raw Fuckers

Fuck 'em raw and fuck 'em hard! Laid on their back, legs in the air and hole exposed, these horny sluts want raw dick and generous loads. Spunk hungry and insatiable bottoms, they will do anything to milk a hot fresh load straight into their holes.


Fetish Play - Gay DVD - Studio: Filthy Raw Fuckers

Taking It Hard, Raw and Nasty! Our sluttiest bottoms are whipped into submission as they're humilliated, dominated and made to beg for mercy by a host of dominant tops in this Fetish extravaganza. Chained, caged and bound these slaves take it raw from some of the biggest dicks in the business - watch their eager holes quicly fill up with cum as their subservient asses take the pounding of their lives!
Fit As Fuck - Gay DVD - Studio: Filthy Raw Fuckers

There is only one way to describe the hot and horny lads in this dvd - they are as Fit As Fuck.

These raunchy young men are obsessed with sex and are only interested in having it raw!
Fucked Raw Like A Man Whore - Gay DVD - Studio: Filthy Raw Fuckers

Raw juicy dicks and cum sloppy ass holes. Down on all fours, spread eagle, lying on their back or bent over - these horny lads take it raw and they take it hard! They may get fucked like they're being paid, but actually they just love being barebacked!
Fully Loaded - Gay DVD - Studio: Filthy Raw Fuckers

Drunk and horny the lads in Fully Loaded are up for anything! Loose and easy, they begin to explore each other's bodies before tasting their buddy's cocks and taking it in turns to fuck their raw holes. What better way to lose your gay virginity than with a big fat raw cock?
Jizz Junkies - Gay DVD - Studio: Filthy Raw Fuckers

In true Filthy Raw Fuckers style, Jizz Junkies rounds up some serious bareback sex addicts with a particular craving - they are all jizz junkies. These cum-hungry fuckers swallow down any cock available to them before getting into some intense raw fucking. After all the raunchy sloppy barebacking, the Jizz Junkies receive the warm sticky loads they have been begging for!
Loaded In Leather - Gay DVD - Studio: Filthy Raw Fuckers

Drenched in sweat and Loaded In Leather, these horny hunks fuck hard, fuck raw and fuck deep! With their fat juicy dicks and raging labido, watch as hole after hole is pounded into submission and opened to the point of no return! Asses will be stretched - and spunk will fly!
Masked Masters- Gay DVD - Studio: Filthy Raw Fuckers

Restrained, whipped & barebacked into shape! Anonymous hung tops are brought in to show these disobedient boys what happens when they misbehave! Tied down, roughed up, fucked beyond their limits and filled up with spunk; they soon learn their lesson – that they like being naughty!
Protein Shakers - Gay DVD - Studio: Filthy Raw Fuckers

Lift, pump, swallow - that's the aim of the game in Protein Shakers! Whether pumping iron or pumping hot veiny dicks, these muscular men need their protein hit - and where better to get it than straight from the source! Dripping in sweat and pumped from their workouts, they take out their sexual frustration on their buddy's raw asses!

Spunked Up Sluts - Gay DVD - Studio: Filthy Raw Fuckers

These Spunked Up Sluts sure know how to have a good time! Booze, fun and hard raw cocks in their eager holes! Whilst their girlfriends are away they take advantage of their fit, straight mates by milking their fat juicy cocks until they end up with a face or ass full of hot fresh spunk!
Take My Load - Gay DVD - Studio: Filthy Raw Fuckers

Take My Load is full to the brim with spunk! What happens when you throw together a group of hot hung men, loads of booze and no condoms? A big free for all bareback party, where each and every hole is ripped open by massive dicks before unloading either deep inside or all over each other's faces! These horny fuckers don't end there, either fingering it back out or sharing it for all to see!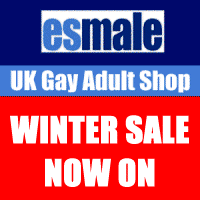 Esmale (UK Gay Adult Shop) sells a large range of gay adult sex toys including a range of fetish and restraint products, Cock and Ball play items, Whips, Paddles and Slappers, Blindfolds, Masks and Hood and are the UK stockist of Mr B leather and fetish products. They also sell a large range of men's designer underwear, condoms and lube, fleshjacks, jock straps and anal toys. Treat yourself!
Save an extra 10% on top of their already discounted prices with our exclusive code 'GAY10'. Click here to shop
See also: www.gayadultshops.co.uk