Liquid London was a British gay film studio that released quality award-winning gay dvds from director Jean-Marc Prouveur featuring French and English gay men.

Appartements De Vacances - Studio: Liquid London
Weekend breaks in Paris and London are not quite what they seem when the booking agency staff take on more duties than they are paid for in Appartements De Vacances. Cleaners clean with their tongues, gardeners self water the terrace plants and bell boys get through the fresh towels apace in this raunchy film by the renowned director Jean-Marc Prouveur.
Beast - Studio: Liquid London / Oh Man Studios

Beast takes us into the realm of enchantment where nothing is quite what it seems. This is a very grown up fairy tale where the sex can be at once brutal and gentle, or vicious and corrupting. Cinematography, lighting, costume, sets and the cast of nine combine to make Beast a film unlike any other in this genre!
Cast: L Jordan (m) Aiden Bonini Brice Farmer Luc Lemaitre Mark Summers Ni
Gamins D'Auvergne - Gay DVD - Studio: Liquid London
Loosely based on the late nineteenth century gay German photographer Wilhelm Von Gloeden, this latest release from Liquid London transports you back to a time when sex between young peasants was an expected way of life before marriage.
Heat and Lust Postcards To A Pornographer: Liquid London
Being a pornographer is not always easy when your carefully chosen houseboy keeps on distracting you with his oversized manhood. Producer Jean-Marc Prouveur is sitting on his couch at home in the Auvergne reading postcards from his favourite porn stars and trying to imagine the lurid sexual cavorting they are getting up to in Spain, Poland, England and other exotic locations.
Legionnaires 1 Rough Action - Gay DVD - Studio: Liquid London
From the notorious jail of Sidi-al-Alama, Captain Sam Griffiths recalls his downfall. Six months earlier at Souk-el-Had, a post remembered by many legionnaires for its relentless heat, Captain Sam Griffiths was again in command.


Legionnaires 2 French Foreign Gangbang - Studio: Liquid London
In Legionnaires 2, we find ourselves once again in the notoriously tough jail of Tahala Prison in Sidi-al-Alama. The prison is still vibrating to the sounds of copulating and masturbating inmates and the cell that was once occupied by the infamous Captain Sam Griffiths, who was found guilty of sexual misconduct with the lithe and attractive Giobanni Varreras....
Polish Pleasures - Gay DVD - Studio: Liquid London
Mostly filmed in rural Poland, Polish Pleasures transports you to a land of unequalled romanticism where secret passions run high. Hidden pleasures are being consumed over the wailing of the violin. It is a dance with polish devils, a dance with the most beautiful angels of darkness fiendishly endowed. A dance that will end with your destruction!
Rascals from Boarding School - Studio: Liquid London
With a cast of 17 lads behind closed doors and a hunky priest, education is the last thing on their minds! Testosterone runs high in the dormitory, gym and in the catacombs, ending in a frenzy of debauchery late at night.....
Strictly Cum Shots - Gay DVD - Studio: Liquid London
Strictly Cum Shots delivers on its promise. Hold on for an orgy of the very best in cumshots ever filmed, as more than sixty of Liquid London's horniest guys, cocks in hand, fill the screen with explosions of the white stuff! Just boys, teasing their erect members until the gravy stroke overwhelms them.
Spanish Obsessions - Gay DVD - Studio: Liquid London
In Barcelona, German Lee Jaguar dreams of sex. In the apartment where he lives with the extremely well endowed Simone De Jesus, he imagines that the latter is fucking with sensual Giovanni Carerras. When he wakes up, Lee leaves town to explore the surrounding forest - and to be deep fucked. Hands stuck to the ruined walls, legs wide apart, Lee is truly sodomised by a rough lad he encountered a few minutes before.
The Best Of Liquid London 1 - Gay DVD - Studio: Liquid London
The charismatic director of Liquid London, Jean-Marc Prouveur has chosen and brought together his most exciting scenes. This first compilation reveals his extraordinary and varied talent. You will be both aroused and excited !!
The Best of Liquid London 3 - Studio: Liquid London
The charismatic director of Liquid London, Jean-Marc Prouveur, has selected and brought together more of his most exciting scenes! The Best Of Liquid London 3 reveals the erotic depth and intensity of his extraordinary and varied talent. Here are some very attractive young hunks, getting humped and sucking cock with gay abandon.
The Manor - Gay DVD - Studio: Liquid London
Romeo and Tony, two ordinary happy kids newly in love, have left Paris to spend a few days in the countryside. It is a time they have been eagerly awaiting and all is set for a fun time as they drive away. Soon, dark clouds form overhead and the hitchhiker they have picked up on the side of a lonely road seems a little strange.
The Prisoners Song - Gay DVD - Studio: Liquid London
Set in a French prison in a remote part of the Middle East, this poetic and intensely physical vision of homosexual desire is the latest film directed by Jean-Marc Prouveur. Soldiers sweat their days in solitary cells of a military jail and dream of sex with each other in the grass and the flowers of their home fields.
Uniforms Suits and Boots - Studio: Liquid London
Suits, combats, decorators apron - the uniform has always been a fetish for gay boys and now this sexual tool of the business man, squaddie and painter has been given the Liquid London treatment by it's renowned director Jean-Marc Prouveur. The office is the backdrop for the first scene of Uniforms Boots N' Suits where a young city boy is caught watching porn on his laptop by a colleague.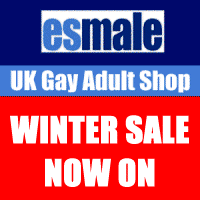 Esmale (UK Gay Adult Shop) sells a large range of gay adult sex toys including a range of fetish and restraint products, Cock and Ball play items, Whips, Paddles and Slappers, Blindfolds, Masks and Hood and are the UK stockist of Mr B leather and fetish products. They also sell a large range of men's designer underwear, condoms and lube, fleshjacks, jock straps and anal toys. Treat yourself!
Save an extra 10% on top of their already discounted prices with our exclusive code 'GAY10'. Click here to shop
See also: www.gayadultshops.co.uk