The gay fetish porn dvds in the Bound In Public line from Kink.Com contain flogging and hard gay bondage fucking. The guys are bound, tied up and gagged as they endure hours of humiliation.

Bound In Public 117: Go-Go Boy At The Powerhouse Bar

Shane Frost is the Go-Go Boy At The Powerhouse Bar. He is dancing at the bar when things get out of hand. Spencer Reed and his buddies drag the boy off the stage and tie up Shane in front of the rowdy crowd. Shane is made to suck cocks, eat asses and lick feet. After flogging the hell out of Shane, Spencer and his buddies fuck the boy and make him beg for their loads!
Bound In Public 116: Sebastian Keys's Insane Birthday Bash

The horny crowd awaits as Sebastian brings in his collared boy, crawling on all fours. When everyone least expects it, Van, joined by Christian Wilde and Trenton Ducati decide to crash the party. Turns out it's the big director Sebastian Keys' birthday, so the guys turn the tables on him. They gang up on Sebastian, tearing his clothes off and tossing him around like a rag doll.
Bound In Public 115: Pissed Off Landlord Gangfucked - Studio: Kink.com

Muscled stud, Tatum is having a hot leather party out back behind his building when all of a sudden the landlord, Leon Fox comes storming in to break things up. When Leon threatens the party goers, Tatum has the guys pounce on Leon and quickly tie him up. They tape his mouth shut as he's passed around for their sexual pleasure.
Bound In Public 100: Folsom Street Virgin - Studio: Kink.com

It's Folsom Street Fair 2014 and the Bound In Public crew has taken over the Kink stage to find a new Folsom Street Virgin. Watch as they torment their boys with floggings, electro play and a vicious zipper before hitting the streets. They pull Jacob Durham out of the crowd, finding out it's his first time at Folsom Street Fair, so they tie him up and give him the full treatment.
Bound In Public 101: Fresh Southern Meat - Studio: Kink.com

There's a clothing shop in SF where the customers are always ready for some action. Leo Forte brings in his boy of the day, Jordan Foster, to be a piece of it. With the shop owner's permission the guys put Jordan to work making him suck cock right away. Stripped down to his underwear he jacks guys off two at a time while keeping two more cocks in his mouth.
Bound In Public 102: Ripped Stud In A Skate Shop - Studio: Kink.com

Kevin Case is a punk trying to get away with returning a skateboard that he thrashed in the desert. Spencer Reed won't stand for it and when Kevin gets pissed the guys decide to teach him a lesson. As Kevin fights he gets his clothes ripped off and made to crawl around the room to sniff crotches. In the back of the store they fuck his ass and make it nice and red from spanking. He crawls around some more to get loads out of the horny customers then gets three feet shoved down his throat.
Bound In Public 103: Bar Slut Gang Fucked - Studio: Kink.com

Corbin Dallas is the group's bar slut for the evening and brought into the room of horny men hooded and begging to be groped. They put their hands all over him with clips on his nipples and get his cock hard. The crowd humiliates him by pouring their drinks all over him. As Corbin is passed around from one cock to the next he's giving a hard flogging by Christian Wilde.
Bound In Public 104: No One Can Hear You Scream! - Studio: Kink.com

Deep in the woods of Northern California, a couple horny locals cruise along the windy road until they find a hot stud walking all by himself. They try to pick the boy, Eli Hunter, up but when he refuses they veer off to the side of the road and jump him from behind. Eli's taken back to their campsite where more of their horny friends await. Out of fear, Eli pisses his pants before the gang of men tear away his clothes and shove their cocks in his holes.
Bound In Public 105 Lazy Employee Receives His Reward

In the Bound In Public dvd Lazy Employee Receives His Reward, Damien Moreau has taken cigarette breaks all day and his boss Bryan Cavallo is sick and tired of Damien's laziness. Bryan rallies the rest of the crew together when Damien's out back smoking another cigarette. The guys smack it out of his hand and pounce on him, tearing away his clothes and then tie him up.
Bound In Public 106: The Ballon Shop Whore - Studio: Kink.com

The Balloon Shop Whore. Presley Wright is brought into a balloon shop here in the Castro for a little fun. He's bound and taken around the store for everyone to fondle. The crowd gathers around and takes his clothes off, groping his cock as they rub his body. Presley's dragged over to the window to suck cock while receiving a spanking for everyone to see.
Bound In Public 107: Hot Go-Go Dancer For SF Pride!

In Hot Go-Go Dancer For SF Pride from the Bound In Public series, it's Pride weekend and Alexander Gustavo's shaking his money-maker on stage. He riles up the crowd so much that a few rowdy audience members decide to get a piece of the action. They grope and suck on Alexander to roaring cheers from the bar as he's bound in rope. At the mercy of the horny dudes, they ram a giant butt plug in his tight ass, flog him to the cheers of the roaring crowd, and line up their hard cocks to fuck his mouth.
Bound In Public 108: The Laundromat Spit Roast - Studio: Kink.com

With his music blasting too loud, Tyler Rush acts like an obnoxious little fuck in the laundromat, pulling people's clothes out the dryer like he owns the place. The other clientele decide to step in and teach the boy a lesson in proper etiquette. They capture Tyler and call in their buddies to help adjust his attitude.
Bound In Public 109: Horny Bar Patrons - Studio: Kink.com

In a bar full of horny men, Cole Streets and Sebastian Keys drag around Kirk Cummings, who is stuffed in a full body metal case. Kirk is made to suck random cocks as the men finger his wet hole. Cole and Sebastian fuck and smack the boy's ass while the crowd cheers. A ripped French stud shoves his nine inch uncut cock down Kirk's throat.
Bound In Public 110: Feisty Birthday Slut - Studio: Kink.com

Everyone is having a good time at a local bar when Sebastian brings in his tied up friend, Everett Jagger. Turns out it's Everett's birthday and all he wanted this year was to be tied up in front of a crowd. Immediately everyone jumps in, fondling and groping him as his fat cock gets harder and harder for the crowd to see.
Bound In Public 111: Cass Bolton - Studio: Kink.com

Folsom Street Fair 2015 roars with full force, as thousands of people watch Cass Bolton used and abused on stage by Sebastian Keys, Jessie Colter and Christian Wilde. Cass' gigantic balls take a nasty flogging as Cass gets rigged up for a suspension, while attached to Billy and Seth Santoro's clover clamps pinching on their nipples.
Bound In Public 112: Pitcher Becomes Catcher - Studio: Kink.com

Alex Mason just cost his team the championship game after pitching his worst game of the season, and when the winning team finds him all alone in the bathroom, they decide to take their victory lap to the next level. They gang up on poor Alex and quickly turn him into their new trophy fuck. After swallowing their hard dicks, Alex is bent over and fucked with a baseball bat!
Bound In Public 113: Bad Santa - Studio: Kink.com

Muscled submissive whored out by santa for the holidays. Santa's hosting a big party, and he's invited everyone to help him judge whether this whore called Rex Cameron has been naughty or nice. Bad Santa in a black robe rolls into the party and makes it clear that Rex has been nothing but dirty this year.

Cast: Rex Cameron, Vinnie Stefano, Connor Maguire
Bound In Public 114: Gym Slave Takes A Room Full of Cocks

Connor Maguire's Gym Slave Takes on a Weight Room Full of Cocks. After being punished by his gym manager, Connor Maguire, for overdue membership fees, Aarin Asker now works his debt off working Connor's gym. As he goes through his cleaning duties, Connor brings his friends over to fuck with the gym slave. When Aarin tries to stand up to his tormentors, Connor and the gang knock the boy to the floor and strip him down.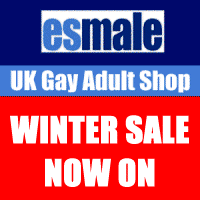 Esmale (UK Gay Adult Shop) sells a large range of gay adult sex toys including a range of fetish and restraint products, Cock and Ball play items, Whips, Paddles and Slappers, Blindfolds, Masks and Hood and are the UK stockist of Mr B leather and fetish products. They also sell a large range of aromas, condoms and lube, fleshjacks, jock straps and anal toys. Treat yourself!
Save an extra 10% on top of their already discounted prices with our exclusive code 'GAY10'. Click here to shop
See also: www.gayadultshops.co.uk